Netarts, Oregon
We ate at the Blue Agate Cafe, a small diner in Oceanside, Oregon, last night. Turns out it was their first dinner serving.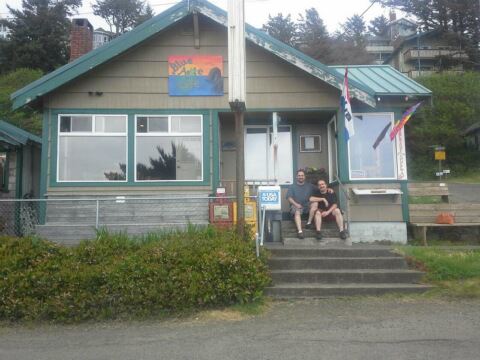 Owners Joseph and Jerald Ellison are identical twin brothers who have a passion for food. And their passions  results in great eats!
They opened their cafe last May for breakfast and lunch, venturing further for dinners this summer.
I forgot to take a photo of our food, but the presentation was lovely! I had prawn fettuccine with garlic and rosemary; Rich had a penne pasta with scallops and sun dried tomatoes. And the dinners tasted even better than they looked.
From my seat, I could watch Jerald cook in their tiny kitchen. I could tell he was nervous, but his passion won out and his joy was palpable. Twin Joseph was our host, waiter, bus boy, and cashier.
With twins there is usually one who is more socially dominant. That is Joseph. Jerald is perfectly comfortable working behind the scenes. Joseph was concerned about Jerald because it was their first night serving dinners.  He happily trotted back to report to his twin how happy all the diners were.
I congratulated Joseph and Jerald for their new beginning of exquisite dinners.