I listen to ESPN radio while I'm driving, and all the talk earlier in the week was about Cam Newton's pants.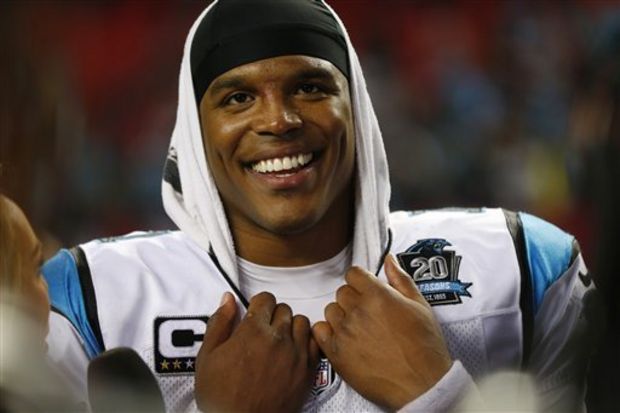 Cam Newton, for those of you who don't watch football, is the quarterback for the Carolina Panthers–one of the teams in the Super Bowl.
Cam Newton is one of if not the most controversial players in the NFL.
Football fans either love him or hate him. Nobody's neutral. And given that he's the odds on favorite to win Most Valuable Player, everyone who watches football knows who he is.
I'll admit that at first I didn't like him. But then Richie talked me out of my narrow-mindedness and encouraged me to enjoy Cam Newton for what he was–a man who loves life and loves football and isn't afraid to show his joie de vivre.
He has his signature poses for first downs…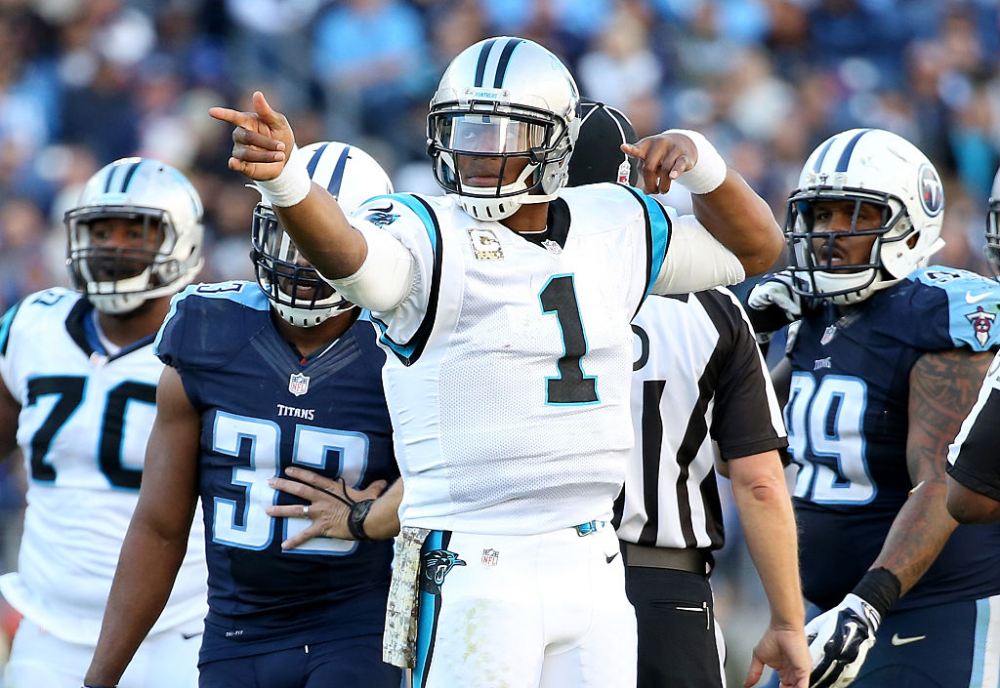 He does a dance called the "Dab" after scoring a touch down…
And he wears flamboyant pants that sell out hours after he shows them off…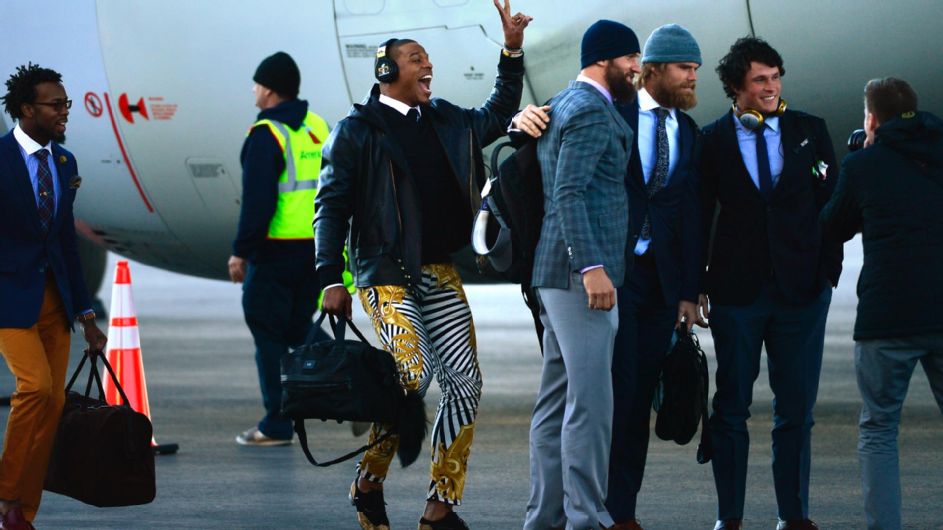 Love him or hate him, you won't have a hard time finding him in a crowd. 🙂
Cam Newton took fancy pants where other pros dare not go
By Leanne Italie | AP February 3
NEW YORK —
Lots of athletes have style, but could they rock the Cam pants?

Super Bowl 50 is just days away and already has a breakout star: the $849 Versace skinny pants of Carolina Panthers quarterback Cam Newton.

Newton was snapped Sunday in the zebra stripe, gold swirl rocker pants as he boarded a plane to California, immediately setting off a frenzy on social media and among TV talking heads.

We know Newton likes his flashy shoes. We know he can pull off a bushy foxtail hanging down one hip, but those tight, hair metal pants came straight out of left field. Would other pros dare to try?

New York Mets pitcher Matt Harvey, fond of old school rock, great tuxedos and a little cool, fun experimentation in clothes, said there will be no rocking of Cam pants for him.

"I don't know if many people can, but I know he enjoyed wearing them," Harvey smiled Tuesday night at a fashion presentation by designer John Varvatos during a round of men's shows in New York.

He was joined at Varvatos by Eric Decker, a wide receiver for the New York Jets — and another underachiever when it comes to football's most famous pants.

"Oh, I don't know if I could rock those pants but Cam definitely put a statement on Super Bowl week for sure," Decker said.

How about Patriots quarterback Tom Brady?

"I don't know if Tom would. I'm sure he could. He could rock anything," Decker said. "I haven't seen him in skintight pants like that yet so that would be a new style for him."

Brady's fellow Patriot, Julian Edelman, took in the rock-themed Varvatos show as well. The Patriots missed out on Super Bowl 50, but he considers himself a Cam pants contender.

"The Cam pants? … If you go out with a confidence I think I could. I think I could," Edelman smiled.

As for Brady, he added: "Tom could rock anything. He's Tom Brady."

Newton kept the look classy up top, pairing his fancy pants with a V-neck sweater, a tie and some gold-tip shoes. His black leather motorcycle jacket added extra oomph.

So what's the word within the fashion industry? We asked football fan Tommy Hilfiger to weigh in.

"I think he's very cool," the designer said ahead of his own fashion presentation, "and I think he's not only an iconic athlete but he's a fashion icon as well. People look up to him."

The Panthers meet the Denver Broncos on Sunday. Could Newton's nemesis, Bronco quarterback Peyton Manning, succeed in similar pants?

"Uh, I think Peyton might be a little old for them," Hilfiger said, "but Peyton has rocked quite a few great things over the years."