I went to the gym yesterday for a little over an hour. I was hoping to try a yoga class, but that class was cancelled.
So, I did some machine work and then walked a bit on the treadmill.
Then I came home and then took Sophie for a long hike in the foothills.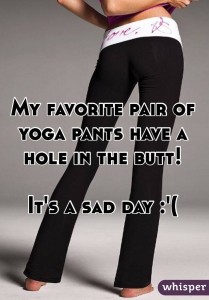 After I came home from all my exercise excursions, Rich informed me that I had a hole in my black yoga pants.
Right smack dab in the middle of my bum, my white underwear was peeking out…
While I'm not sure, I'm guessing that it was there when I left the house in the morning.
I have no clue if anyone noticed at the gym.
The good news is that the hole wasn't THAT big.
And the even better news is that there were lots of very attractive people at the gym.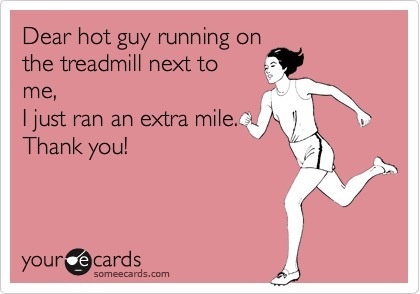 So, there was a lot of eye candy to attract all sorts of attention and keep others' eyes off of pant holes.
Especially if those holes are in the pants of a nearly 60 year old woman! 🙂