I'm trying to pay less attention to political news because I'm appalled at how the presidential candidates are behaving…
I've been pretty good about not clicking on the headlines to see which candidate is making a bigger a$$ of him/herself lately.
But this headline caught my eye and I had to click: Trump knocks Bush for turning to 'mommy'
Trump tweeted the following after watching an ad that Barbara Bush made for her son Jeb Bush.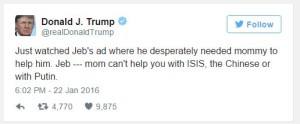 Here was Bush's tweet back: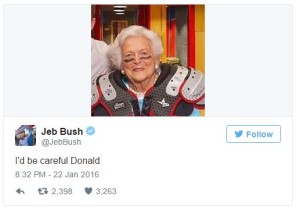 Cracked me up. 🙂
Take a look at this article about the tweet spat from Business Insider to get more of the story and back story:
Jeb Bush had the perfect response to Donald Trump taunting him for using 'mommy' in a campaign ad
Amid a Friday-night tweetstorm, real-estate tycoon Donald Trump mocked one of his presidential rivals, former Florida Gov. Jeb Bush (R), for featuring former First Lady Barbara Bush in a new campaign ad.

Trump taunted Bush for relying on his famous "mommy."

"Just watched Jeb's ad where he desperately needed mommy to help him. Jeb — mom can't help you with ISIS, the Chinese or with Putin," Trump wrote.

Bush responded by posting a photo of his mother, now 90 years old, in football gear:

Barbara Bush had donned the football gear in 2014 as part of her anti-illiteracy campaign in Houston, Texas. She had partnered with Houston Texans star defensive end J.J. Watt for a video about "tackling" illiteracy.

"If we're going to tackle illiteracy here in Houston, J.J., we've got to get our game faces on," the former first lady told Watt.