Ever want to watch a telenovela–'a limited-run serial drama'?
Telenovelas are popular basically everywhere but the U.S. Their name is derived from tele, short for television, and novela, a short novel.
Telenovelas are similar to soap operas, but unlike soaps they generally don't run more than a year.
There's a series that started a year ago on the CW network called Jane the Virgin. It's about "Jane Villanueva, a working, religious young Latina virgin, who becomes pregnant after being artificially inseminated by mistake."
While Jane the Virgin isn't a telenovela, it is similar to one in tone, playfulness, and content…

And it's excellent! I highly recommend it!
Gina Rodriguez plays Jane, and her portrayal of a strong, confident, and religious young woman is spot on.
The supporting cast and characters are varied and perfect!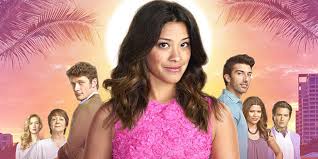 Season 1 is on Netflix, and Season 2 is currently airing on the CW.
PS Thanks to Melissa for telling me about the show. I'm loving it!