Today's weather is going to be PERFECT!
Cloudy all day long.
Temperature under 70 degrees.  PERFECT after this long,  hot  summer.
And I'm wearing my favorite outfit: shorts or a skirt and a long sleeved men's shirt.
That reminds me of my favorite Shania Twain's song because she talks about "Men's shirts-short skirts".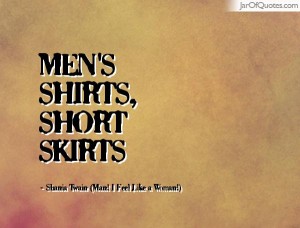 One of my most cherished memories is singing this song with Melissa and Carol just before the Women's Fitness Celebration 5K Race during Melissa's first year in college at Boise State University.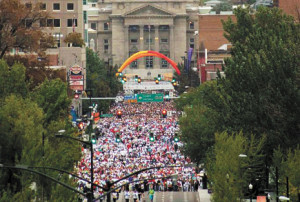 Carol and I had driven up from Fallon to visit Melissa about a month after she started college.
We joined 20,000+ other women in song along the streets in downtown Boise.
It was a magical moment with incredible energy and sisterhood.
And that's when I knew I wanted to live in Boise. 🙂
That was 16 years ago this weekend.  So in memory of that…
Let's go girls!
Man! I Feel Like A Woman!"
Let's go girls! Come on.

I'm going out tonight-I'm feelin' alright
Gonna let it all hang out
Wanna make some noise-really raise my voice
Yeah, I wanna scream and shout
No inhibitions-make no conditions
Get a little outta line
I ain't gonna act politically correct
I only wanna have a good time

The best thing about being a woman
Is the prerogative to have a little fun

Oh, oh, oh, go totally crazy-forget I'm a lady
Men's shirts-short skirts
Oh, oh, oh, really go wild-yeah, doin' it in style
Oh, oh, oh, get in the action-feel the attraction
Color my hair-do what I dare
Oh, oh, oh, I wanna be free-yeah, to feel the way I feel
Man! I feel like a woman!

The girls need a break-tonight we're gonna take
The chance to get out on the town
We don't need romance-we only wanna dance
We're gonna let our hair hang down

The best thing about being a woman
Is the prerogative to have a little fun

Oh, oh, oh, go totally crazy-forget I'm a lady
Men's shirts-short skirts
Oh, oh, oh, really go wild-yeah, doin' it in style
Oh, oh, oh, get in the action-feel the attraction
Color my hair-do what I dare
Oh, oh, oh, I wanna be free-yeah, to feel the way I feel
Man! I feel like a woman!

The best thing about being a woman
Is the prerogative to have a little fun (fun, fun)

Oh, oh, oh, go totally crazy-forget I'm a lady
Men's shirts-short skirts
Oh, oh, oh, really go wild-yeah, doin' it in style
Oh, oh, oh, get in the action-feel the attraction
Color my hair-do what I dare
Oh, oh, oh, I wanna be free-yeah, to feel the way I feel
Man! I feel like a woman!

I get totally crazy
Can you feel it
Come, come, come on baby
I feel like a woman