I watched football yesterday. A lot of it.
And while the football was very good, one of the ads that aired multiple times had me perplexed.
Usually football ads involve beer, pizza, tools–you know, things the quintessential male couch potato enjoys…
But I lost track how many times I saw Matthew McConaughey driving a Lincoln.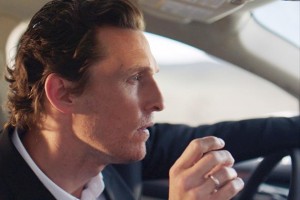 I don't quite get the connection between McConaughey and football and why the advertisers think that airing their ads during an NFL game makes sense.
McConaughey is super thin and most couch potatoes watching football have loosened their pants so that they can eat more chips and dip.
He tries to come across as cerebral and metaphysical–two qualities rather lost on most weekend warriors who turn off their brains for the weekend until they go back to work on Monday
So here's the interesting thing…
Apparently the ad works!
Lincoln's sales went up 25% after McConaughey's first Lincoln ad aired.
I'm not sure if it initially aired during football games or during opera performances; the latter seems like a better fit to me.
Maybe opera fans were Lincoln's first target market, and now football fans are their next target.
For those who haven't seen it, here's a fantastically funny parody of a McConaughey-Lincoln ad by Jim Carrey for Saturday Night Live:
And another ad spoofed by Ellen Degeneres that is very funny, too: