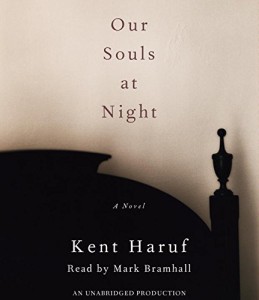 I just finished listening to Kent Haruf's final book, Our Souls at Night.
I had heard of Haruf's work, but I'd never read any of his books before including Plainsong, his third and most known novel.
Our Souls at Night is a beautiful story of a widow and a widower who begin a wonderful friendship after she asks him to sleep with her at night.
She misses lying in bed at night talking with her husband about the events of the day and listening to him breathe before she falls asleep.
So she asks her neighbor to just come spend the night together to see if it will help her sleep at night.
"I'm talking about getting through the night," she says. "And lying warm in bed, companionably. Lying down in bed together and you staying the night. The nights are the worst. Don't you think?"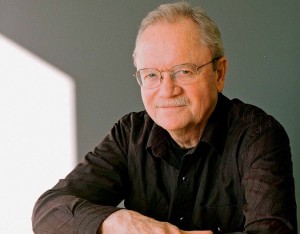 He agrees, and he knocks on her back door after dark with his pajamas and a toothbrush in a brown paper sack.
After they talk a bit, she does fall asleep. And after a few nights staying with her, he falls asleep as well.
All of Haruf's novels take place in the fictional town of Holt, in eastern Colorado. Holt is based on Yuma, Colorado, one of Haruf's residences in the early 1980s.
The book is gentle, heartwarming, and yet surprisingly honest.
I highly recommend it.
******************
Here's an article from Wall Street Journal about the book that explains much of the details behind the book and its story. Amazing!
Kent Haruf's Last Chapter
In 'Our Souls at Night,' a novel he finished just days before he died, Kent Haruf explores finding love late in life
By JENNIFER MALONEY
May 14, 2015 1:32 p.m. ET
Kent Haruf knew he was dying, but he felt well enough to attempt one more project. It was May of last year, and Mr. Haruf, the best-selling novelist known for his quiet chronicles of small-town Colorado life, had been diagnosed with an incurable lung disease.

"I have an idea," he said to his wife, Cathy Haruf. "I'm going to write a book about us."

He stretched the long tube of his oxygen tank out the back door of their bungalow to his writing shed, and began to type.

Normally, it took him six years or more to write a novel. But in a rush of creative energy, he wrote a chapter a day. Roughly 45 days later, he had finished a draft of his final novel, "Our Souls at Night."

Mr. Haruf died at home in Salida, Colo., on Nov. 30. He was 71 years old. In the months and even days before he died, the author worked with his wife and his editor, Gary Fisketjon, to finish it. His publisher, Alfred A. Knopf, will release the book on May 28 with a first print run of 35,000.

A short, spare and moving novel about a man and a woman who find love late in life, "Our Souls at Night" is already creating a stir. The novel has been selected by the American Booksellers Association as the No. 1 Indie Next Pick for June. Discussions are under way for a film adaptation, according to Mr. Haruf's agent, Nancy Stauffer.

"Knowing that there will be no more," readers may find this book even more powerful than Mr. Haruf's previous novels, said Cathy Langer, lead buyer at the Tattered Cover Book Store in Denver. "Plainsong," his most famous book, has sold more than one million copies in the U.S.

"Plainsong," in which two old, cantankerous bachelor farmer brothers take in a pregnant teenager, was the first in a trilogy, all set in the fictional town of Holt, Colo. The new novel is set in the same town, but is separate from the trilogy.

"It has all of those Haruf-like things—the community, the forging of relationships," Mr. Fisketjon said. "But there is something about this book that seems to me completely different… The simplicity of it, the directness of it. The get-to-it-ness of it. The opening is like, Wow."

The book begins with a proposition: A 70-year-old widow named Addie Moore knocks on the door of a longtime neighbor and asks if he would like to come to her house at night to lie in bed—not for sex, but to talk and fall asleep together.

"I'm talking about getting through the night," she says. "And lying warm in bed, companionably. Lying down in bed together and you staying the night. The nights are the worst. Don't you think?"

"Yes. I think so," he says.

Alan Kent Haruf was born in 1943 in the steel-mill town of Pueblo, Colo. His father was a Methodist preacher. That summer, his family moved onto the Eastern Plains of Colorado, where they lived in three different towns over the next 12 years. This was the landscape where he would set his novels.

He attended high school in Cañon City, Colo., where, freshman year, he met Cathy Shattuck. They lived on the same street. (Her father was an Episcopal priest.) The two became close friends, playing in the band together and commiserating over girlfriends and boyfriends. They went on double dates together but never dated.

At Nebraska Wesleyan University in Lincoln, Mr. Haruf discovered Faulkner and Hemingway, and decided to become an English teacher. He began to write short stories while volunteering with the Peace Corps in Turkey, and applied to the Iowa Writers' Workshop. He was rejected. He married in 1967 and continued to write, applying to the workshop again in 1971. This time, he moved his wife and baby daughter to Iowa before the school finally admitted him.

He spent the next 11 years trying to get published. He taught high-school English in Colorado and Wisconsin, and wrote during the summers. "The Tie That Binds," his first published novel, was released in 1984 when he was 41.

In 1991, he rekindled his friendship with Cathy Shattuck (by then Cathy Dempsey) at their 30th high-school reunion. Both of them were married. She had five children. He had three. She was a special-education teacher in Virginia, working with physically disabled students.

He began to write "Plainsong" soon after that, modeling one of the characters, a teacher named Maggie Jones, after her.

Within a few years, both of their marriages had ended. Their relationship began long-distance, with long talks on the phone. In 1995, she joined him in Illinois, where he was teaching in the MFA program at Southern Illinois University. They were married that year.

"Plainsong" was published in 1999. It was a runaway best seller, and a finalist for the National Book Award.

"From simple elements, Haruf achieves a novel of wisdom and grace–a narrative that builds in strength and feeling until, as in a choral chant, the voices in the book surround, transport, and lift the reader off the ground," the National Book Award citation said.

The success of "Plainsong" meant that he could now write full-time. Kent and Cathy Haruf built a cabin in the mountains near Salida, Colo., about 60 miles west of the town where they attended high school. She got a part-time job as a hospice volunteer coordinator, so she could travel with him on book tours.

"They were just so in love," the author's sister-in-law Kathy Haruf said. "You could feel it when you were with them."

In the woods by their cabin, they adapted a tool shed—insulated, with a space heater, desk, typewriter and bookshelf. Every morning at 9, rain, shine or snow, Mr. Haruf would head out there.

He would read a passage from one of his favorite authors—Hemingway, Faulkner or Chekhov—"just to remind myself of what a sentence can be," he said in an interview with John Moore, a journalist with the Denver Center for the Performing Arts, last November. Then he would roll an old, yellowed sheet of paper into his Royal typewriter, pull a stocking cap down over his eyes, and type blind, his head sinking toward the keys. He would write one scene, with no punctuation or paragraph breaks, filling a page with single-spaced text.

He wouldn't allow himself to get up until he had finished the scene.

When he was diagnosed with interstitial lung disease in February 2014, he felt "sick and very downhearted spiritually and mentally," Mr. Haruf said in the same interview, six days before he died. "And then in April, I began to feel a little better, and I thought, 'Well, I don't want to just sit around waiting.'"

After he was diagnosed with an incurable lung disease, author Kent Haruf and his wife Cathy formed a two-person book club of sorts.

Mr. Haruf described it, in an interview with the Denver Performing Arts Center, as "a seminar course in spiritual thought about death and dying." The two of them, each morning, read and discussed dozens of books about death and spirituality.

In "Our Souls at Night," Mr. Haruf's final novel, Addie asks Louis: "Aren't you afraid of death?"

"Not like I was," he replies. "I've come to believe in some kind of afterlife. A return to our true selves, a spirit self. We're just in this physical body till we go back to spirit."

Below, some of the books the Harufs read together:

"On Death and Dying," by Elisabeth Kübler-Ross
"Dying To Be Me," by Anita Moorjani
"Wishes Fulfilled," by Wayne Dyer
"Many Lives, Many Masters," by Brian L. Weiss
"Ask and It Is Given," by Esther and Jerry Hicks
"On Life after Death," by Elisabeth Kübler-Ross
"Messages From the Masters," by Brian Weiss
"Only Love Is Real," by Brian Weiss
"Sacred Contracts," by Caroline Myss

He tried to write some short stories, but didn't get anywhere, and then the idea came to him for a novel.

"In some ways it felt as if that was what was keeping me alive," he said. "It was something significant for me to get up for every day."

He asked his wife not to tell anyone he was writing a book. He wanted it to be surprise.

He started on May 1. By mid-June, he had finished the first draft. He revised and retyped it, and one afternoon in early August, Cathy Haruf said, "Well, are you ready for me to read it?"

"Yes, I think so," he said.

She retrieved the manuscript from the shed, sat down and read it all at once.

It was not a literal retelling of their marriage. But there they were, recast as Addie Moore and Louis Waters. When she read Addie's fearless proposition, she thought, "Oh yeah, he knows that I would be the kind to do something like that," said Ms. Haruf, 71.

The Harufs' favorite time together was lying in bed at night, talking.

"It's our love story," she said. "We would lie there and hold hands and talk. There wasn't anything we never discussed."

In the novel, Addie and Louis slowly reveal themselves, and their life stories, as they lie in bed talking. Their connection deepens when Addie's grandson Jamie comes to stay with her, and it's tested when neighbors and loved ones voice objections to the relationship.

Woven through the book are details from Mr. Haruf's life, including subtle nods to his children.

"There we are in these pages," his daughter Sorel Haruf said. "It's a final blessing to all of us."

Cathy Haruf typed the draft on their computer, and updated it as her husband made revisions. She sat next to him in bed, with a pad and pen, making a timeline of the characters, to make sure the fictional dates lined up. They brainstormed titles together. (They rejected: "Till We Meet Again," "Night Time," and "Cedar Street.") And they debated the ending. Ms. Haruf objected to the ending of his first draft, which she argued was out of character for Addie.

"Addie would not do this!" she said.

He rewrote it.

On Sept. 22, he emailed the manuscript to Mr. Fisketjon.

"Here's a little surprise for you," he wrote.

"I said, 'What the f—!'" Mr. Fisketjon recalled. "Shock and awe."

Mr. Haruf's doctors hadn't told him how long he might live. Mr. Fisketjon, knowing that they may not have much time, dropped everything to edit it. Knopf art director Carol Devine Carson, who designed the jackets for the "Plainsong" trilogy, took up the project right away. The trilogy's covers had all depicted landscapes. For this, she proposed a more intimate image: the silhouette of a wooden headboard against a wall. Mr. Haruf loved it.

The book went through a round of editing. Then it went to a copy editor. Knopf express-mailed a copy-edited manuscript to the Harufs on Nov. 25.

Mr. Haruf was very weak. He told his wife she would have to give it the final read.

On the night of Nov. 29, Kent and Cathy Haruf lay in bed—she in their queen bed and he in a hospital bed alongside it. They held hands, talking quietly, then fell asleep.

When she woke in the morning, he was gone.