Meridian, Idaho
Our new home came to us with a small garden.
And that garden obviously has very good dirt!
We're overrun with zucchini. It feels like we're having zucchini at every meal…
We try to pick them before they become zumpkins — zucchini as big as pumpkins. 🙂
But  we missed a few that grew big enough to feed a small army.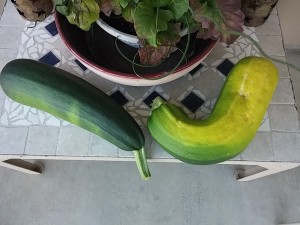 We've given them to friends. I've taken them to pickleball practice. And we're very close to leaving them on neighbors' doorsteps, but we're afraid that they will do the same to us if they figure out that we're the culprits…
I found a great zucchini muffin recipe on-line that I've changed a bit to make it healthier with less oil and sugar.
Here it is in case you're being overrun with zukes and need a way to use them up. These freeze well so you can have fresh (frozen) zucchini all year round.
Zuked Muffins (Makes 12 LARGE or 24 standard)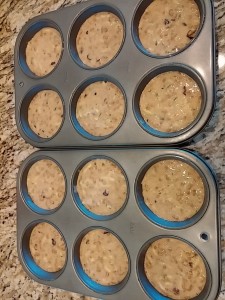 Ingredients
3 eggs
1/3 cup oil
1/3 cup applesauce (or 4 ounce individual serving package)
1/3 cup of yogurt
1/2 cup sugar
1/2 cup brown sugar
2 cups grated zucchini
3 cups flour
1 teaspoon baking soda
1/4 teaspoon baking powder
3 teaspoons cinnamon
1 teaspoon salt
1/2 cup Bran Buds cereal (or chopped nuts)
1 cup dried cranberries (or raisins)
NOTE: I use large muffin tins because then I can honestly say, "I only had one!" You will need to adjust the baking time to maybe 20 minutes if you use standard sized tins. 🙂
Directions
Beat eggs until light and foamy.
Add sugars, oil and zucchini.
Blend well with spoon or mixer.
Add baking soda, baking powder, cinnamon, and salt.
Blend well.
Add flour.
Blend well.
Add Bran Buds and Cranberries.
Stir well.
Pour into greased or lined muffin tins.
Bake at 325oF for at least 25 minutes or until done.