Burning Man is a week-long annual event that began in San Francisco's Baker Beach in 1986 and migrated to the Black Rock Desert near Reno in northern Nevada, in the United States.
It's hard to describe both in terms of what it is and how the experience affects people. Burners travel to it from all over the world. It's an amazing experience to those of us who have been.
My favorite part of the Burning Man experience?  Fire Poi Dancers.
My least favorite thing?  Playa dust storms.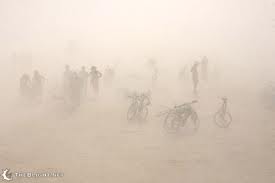 Here is a PulseRadio.net article about it that highlights parts of the Burning Man experience. (Thanks to Andrea for posting it on Facebook. 🙂 )
12 Things you Need to Experience at Burning Man 
Love it or hate it, Burning Man does provide some of the most unique experiences you can find on the globe – there isn't really an argument for that.

A couple weeks back, we wrote a sarcastic piece about why people should not go to Burning Man. While the sarcasm was lost on some who take the whole event a bit too seriously, the bottom line is that we love Burning Man.

But instead of telling people why they should go, we figured it would be more effective to tell you what specifically you may love if you go. Everyone has to find their own way at Burning Man, so plenty of things on this list may not apply to you, but these are experiences we have had and will remember forever. Plus, how do you really know if they apply to you unless you actually give them a shot?

Isn't that the whole point of Burning Man?

Spend an afternoon exploring the Playa endlessly on your bike

So many people get stuck dancing, drinking and partying at Burning Man that they forget what makes this place so special: the art and the surprises. The best way to experience this is to grab a few friends – or even just solo – and just look far out onto the horizon, point at something and ride to it. It's truly unbelievable what you will encounter out there and the effort these artists put into creating something that only lasts a week. Half the fun is the random sights you run into along the way. The other half is guessing what that is 500 yards off in the distance – and finding out you were completely wrong when you arrive.

Enjoy random conversations with strangers

Yes, the art and the parties are a huge part of the Burning Man experience. But without the crazy and wonderful people who build Black Rock City and fill it up, this would just be a festival in the desert. There truly are the weirdest, kindest and most amazing people – from all over the world and all walks of life – you encounter in your time on the Playa. Take the time to engage in some conversations and enjoy the experience of learning about and from other people. Those new friends you make are what you remember most.

Climb all over stuff

Burning Man isn't your average art show. No, this is a true adult playground where unless there is a sign or a rope saying otherwise, you are free – and encouraged at your own risk – to climb on anything you want. Whether it's a tower in the middle of nowhere with an amazing view at the top, a giant hammock on the Playa or the inside of a huge scuplture, get off your bike and be a kid again.

Experience the Dr. Bronner's shower

Showering on the Playa can be a challenge, especially depending on your camp situation or if you're not a tech billionaire. But there is a solution to get cleaned up – as long as you don't mind doing it with a few new friends. The 'Magic Foam Experience' at Camp Abraxas (4&G) will shoot a bunch of Dr. Bronner's foam all over you, let you scrub up and then rinse you off. It might be the most refreshing experience out there. Lines do get long though, so be prepared to wait a bit.

Pay your respects in the Temple

The Temple is an annual display of love, devotion and remembrance, but it's also filled with a lot of sadness. Any place where so many people come to honor their lost ones is going to have tears. But Burning Man isn't just about partying. It's about love, relationships and reflection. Some people are intimidated to go into the Temple, but it's a must-do. It's one place on the Playa where there is total peace and tranquility and it's cathartic to have a good cry. Plus, we have all experienced some kind of loss in our lives and this is a spot like no other where we can honor those that we miss.

Dance your ass off at Pink Mammoth or Distrikt

It's hard to miss two of the city's best daily dance parties. Distrikt for its huge fog horn that blasts off intermittently during the afternoon and Pink Mammoth for its unmissable, bright pink shade structure and bar. Cold drinks are flowing non-stop throughtout the day, which is unbeatable in the desert heat. But if you came to party, you'll find thousands of like-minded friends – and some of the best DJs in the world – at these two camps. Tip: Lee Burridge's All Day I Dream set on Sunday afternoon is always a perfect way to wrap your week.

Walk around the Playa at night

This may sound elementary, but until you have done it, you won't know why it's so cool. Most of the time, when you are getting around Black Rock City, you are riding your bike and have to – somewhat – keep your eyes on the path in front of you. But when you ditch your bike and just go for a walk at night, you can truly – and safely – take in all the sights and craziness going on around you. Crane your head in any direction you want, stop whenever you want and take your time without fear of a wipeout. Burning Man at night is a sight to behold, so make sure you take it in.

Stop into a random bar

How many times do you just go to the same spots to party or dance or drink or visit friends during the week? It's easy to forget that there is so much going on around us, most of which we completely miss. So when you are cruising around on your bike, instead of just looking at that bar and wondering how it is, pull over and grab a seat for some free drinks – you'll be amazed the stories you hear and the things you see. Where else can you do that without ever spending a dollar?

Have some alone time

There are 68,000 people at Burning Man in a pretty tightly-packed area. It's a lot to deal with for even the most social person. Because there is so much going on and so many friends to keep up with, it's a challenge to grab some moments for yourself to take it all in and reflect. Whether that be walking away from the dance floor at Robot Heart and laying on your back in the middle of the pitch black desert or taking a bike ride by yourself or sitting on top of a bus and watching the sunrise, other than your trips to the toilets, make time for you.

Ride an art car

This is one of the few places on Earth where you will see the most ridiculous mutant vehicles (or art cars) cruising all over the place in front of you. Yeah, they are cool to look at, but they are even better to ride on. Whether you know someone who built one or you ask to jump on a random one that you encounter on the Playa, make it happen. It's something you likely will never be able to experience anywhere else.

Watch the sunrise at Robot Heart

There is a reason Robot Heart has become world famous. Sure, the world-class DJ lineups are insane and create some unforgettable moments. But what's more special and will forever remain etched in your brain is when the Robot Heart bus is parked way out on the Deep Playa and the sun starts to creep over the horizon. Many of the thousands walk from the dance floor over for a front row seat on the dry desert lakebed to pay homage to the blazing ball of fire that keeps this world living. The best part is whoever is DJing at that moment always has something special in store for the sunrise. Truly monumental.

Go out of your way to give

Much is made of the "gifting" system at Burning Man. Yes, there is no money exchanged there for drinks, food or services, but you don't necessarily need to have something to give away to everyone to take part in this concept. We all have something to give, whether it's a hug, a conversation, advice, a drink, a tool or a ride. And whether it's for complete strangers, a ranger or people in your camp, step out of society's normal comfort zone and give without any expectation. The simplest thing can make someone else's experience complete.