Meridian, Idaho
I'm going through some old pictures, deciding what to discard and what to scan electronically and then discard.
I came across some photos of when Rich and I visited the Owyhyee (oh-Y-hee) Dam just after we moved to Idaho nine years ago.
It was a wet year–probably the last one since we moved here. And there was flooding below the dam.
A friend in Nevada had told us to take a look at the dam because it's so impressive. And it was.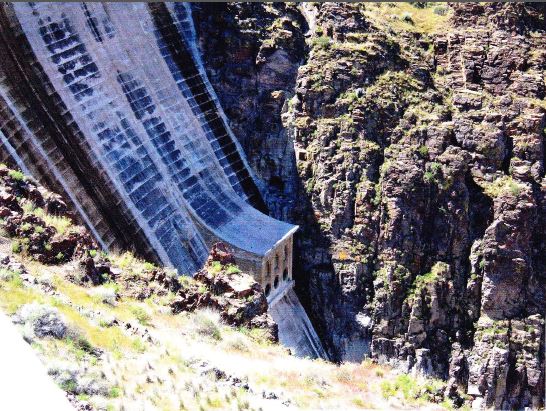 Owyhee Dam (National ID # OR00582) is a concrete arch-gravity dam on the Owyhee River in Eastern Oregon near Adrian, Oregon, United States. Completed in 1932 during the Great Depression, the dam generates electricity and provides irrigation water for several irrigation districts in Oregon and neighboring Idaho. At the time of completion, it was the tallest dam of its type in the world (it was surpassed about two years later). The dam is part of the Owyhee Dam Historic District, which is listed on the National Register of Historic Places.

The dam impounds the river to create the Owyhee Reservoir, with storage capacity of nearly 1,200,000 acre feet (1.5 km3) of water. The more than 400-foot (120 m) tall concrete-arch gravity dam is owned by the United States Bureau of Reclamation (USBR) and operated by the Owyhee Irrigation District. Haystack Rock Road is carried over the 833-foot (254 m) long crest of the dam.
We knew it was a tall dam, but we had no idea what we were going to see once we drove up the road to the top of the dam!
Here's a sequence of three shots of what amazed us:
A wisp of water misting up from the reservoir just a little bit away from the dam.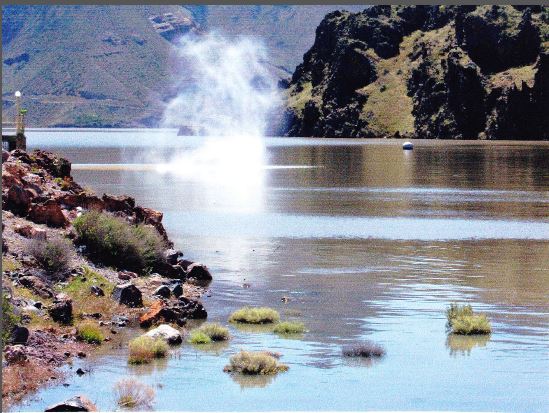 A hole underneath the wisp of water that went somewhere…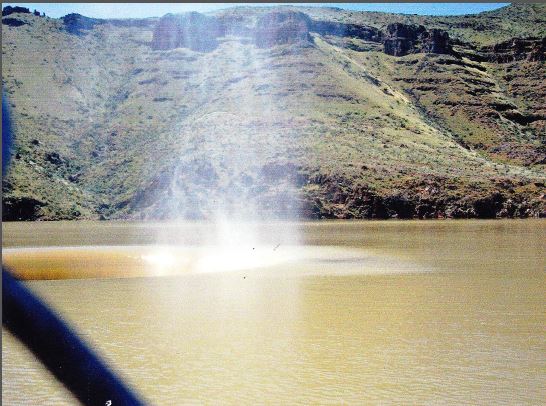 A HUGE HOLE that tons of water were sucked down into!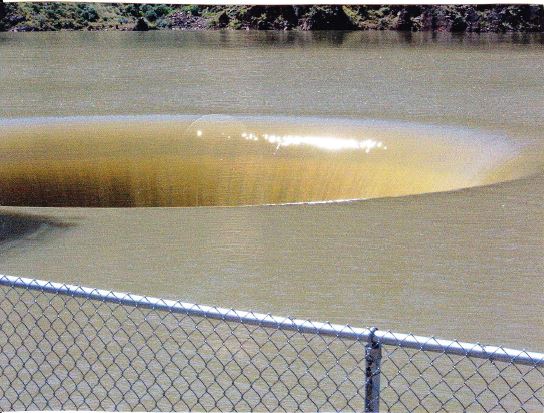 Turns out that's called a Glory Hole. The hole is the spillway for the dam. It's nearly 300′ deep and almost 70′ wide.
Here's a video of water going over the spillway that someone posted on YouTube. Listen to the sound. Amazing.
Engineers can raise and lower the ring-gate control of the glory hole to help monitor water levels and run off.
Driving up the road to view the dam and then seeing (and hearing) the glory hole is a memory I will never forget.
Neither is watching one unlucky fish being sucked into the glory hole…