Meridian, Idaho
I found a solution to a scheduling problem that I've been searching for for a very long time that some of you might find useful.
It's called Doodle and is available on doodle.com.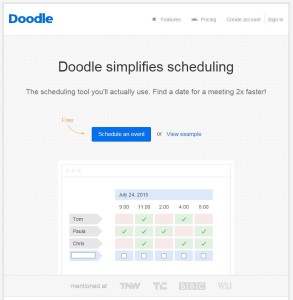 It's a free online scheduling solution that was designed to let people figure out that the best time to schedule a meeting so that the greatest number of invitees can attend.
I looked and looked for a way to figure out who could play pickleball at specific times. A group of us used to send multiple emails to try to figure out when and where was the best time and place to get the most players. It was a nightmare…
Doodle came to the rescue.
I set up a poll for each of the two parks that we play at and players indicate what days they will show up at each park.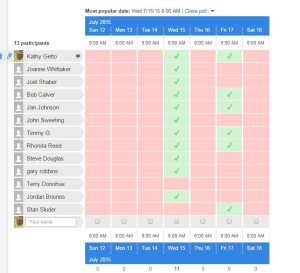 We need at least four to play, so if four hadn't signed up for Monday at Terry Day Park I would have contacted those who had signed up and cancelled.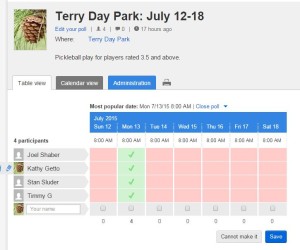 The great thing about it is that only the person establishing the poll needs to have an account. All the invitees can just enter their name in.
It's as easy as pie…