Meridian, Idaho
Most of the time the news is on while I'm eating breakfast or cooking dinner, it's just background noise.
Who can listen to all of that and determine what's REALLY important vs. what just made the cut to make the show because it's interesting, scary, or odd? Or involves a Kardashian? 🙂
If we paid intense attention to it all, we'd be crazy…
The other morning an "odd" story made the news.
This little piggy went whee, whee, whee, as it fled a flipped truck along with thousands of its brethren.

A whopping 2,200 baby pigs ran amok onto an Ohio highway when a tractor-trailer carrying them flipped over Monday evening, NBC affiliate WDTN reported.

The big rig flipped around on U.S. Route 35 in Xenia around 7 p.m., sending the piglets squealing across the highway southeast of Dayton, officials said.

Multiple fire departments, paramedics, police officers and nearby citizens attempted to wrangle the baby pigs and take them to the county fairgrounds, where volunteers and fire crews helped cool off hundreds of pigs. (From NBC New York)
I was intrigued by the oddness of it and actually paid attention.
Then I laughed out loud when Natalie Morales said, and I quote, "Some pigs, sadly, died in the crash."
Where does she think those pigs were headed for? A feed lot where they would be fattened up and 'sadly' die to make up the bacon, pork chops, and tenderloin roast that so many of us enjoy…
What also cracked me up while watching the video was figuring out which of the rescuers had been around animals before.
This guy has held lots of dogs and cats, but probably not too many pigs.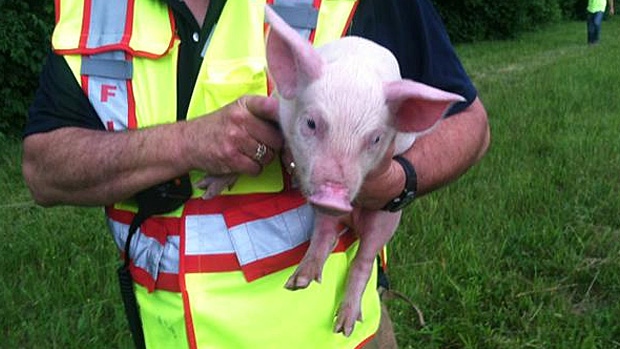 This guy, on the other hand, knows how to handle his pigs.  🙂