Barcelona, Spain by way of Meridian, Idaho
Our son, Rich, is in Barcelona, Spain, watching a football game. Not American football, but European football–soccer!
He was scheduled to be in Germany for work meetings, so why not schedule in a visit to some friends in Finland before and a soccer match in Spain after and somehow only take one day of vacation leave…
You can follow along on his travels if you want by taking a look at his blog:  http://gettoyouthcrew.blogspot.com/
Here is one of my favorite pictures of him traveling while hiking the Annapurna Circuit in Nepal: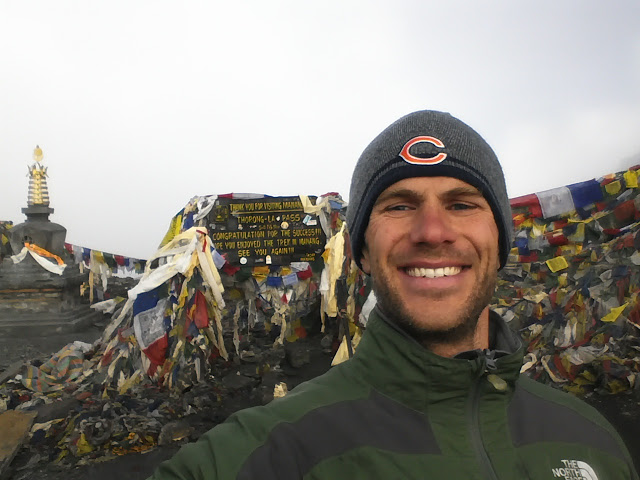 Yesterday's post listed highlights of each visit to 39 different countries in a little over 14 years. When he landed in Spain yesterday, it became his 40th country!
I'm biased because I'm his mother, but I love yesterday's post and copied it here…
14 years, 2 months, and just about 2 weeks ago I set foot in a foreign country for the first time when I went to Jamaica for spring break. Today, I'm visiting my 40th country.

It is mind boggling to me that I've now been to 40 different countries. It's almost unbelievable to me that I have been to 40 different countries in just over 14 years.

Over the last ~5192 days, I have been to a new country every ~130 days. That's…huh. Wow.

I've been thinking back to some memories from my travels…

Jamaica – a foam party on the beach is just gross

Canada – watching Rob get pulled out of the bathroom at the border for using the facilities without permission

Australia – didn't get punched by the guard at the American embassy for acting out a scene from the Simpsons

New Zealand – still not sure how I convinced myself to go bungee jumping

Germany – the feeling of "what do I do with this information?" when the guy making my döner kebab told me that Mohammed Atta was a regular in his shop

Czech Republic – the shockingly violent religious art everywhere…so many beheading statues

Switzerland – Zurich is the closest I've felt to home outside of Seattle

Austria – renting an apartment for Xmas and cooking Xmas dinner with some fellow grad school students

The Netherlands – "and we shall enter the night"

Poland – Lela probably coming closer to murdering Rob, Ben, and I for speaking in whisper voices the entire weekend than we knew

Italy – deep fried calzones

Vatican City – did you know there's such a thing as purple marble?

Greece – "and then you just drive to the Meteora"

The UK – torturing my mom with 5 goodbyes as we dealt with constantly re-scheduled flights due to an air traffic control system failure

Ireland – the picture I have of my mom smiling at me while biking up a hill (and I'm pretty sure cursing me for taking her picture at that time)

France – I walked across the border from Germany and they didn't hand the country over to me, did I do something wrong?

Iceland – Megan finding a natural hot spring on the northern coast where it was possible to be both in the hot spring and the Arctic Sea/northern Atlantic at the same time

Belize – exploring the ATM cave and in the process destroying a pair of socks

Guatemala – being inside a 19 seat minibus with 25 other people (though traveling with 26 others because 1 guy was on the roof) and riding that minibus on a ferry across a very large river that was powered by 4 outboard motors attached to 55 gallon barrels welded to the side of the barge with "pilots" inside  of them

Ethiopia – I saw the building the Ark of the Covenant is in (according to the guy who runs the church who is the only guy allowed to see the Ark)

Kenya – hot air balloon ride over the Maasai Mara that finished with a champagne breakfast

Egypt – the air inside the pyramids is very ammonia-y

Norway – trying to hike through a snowstorm and eventually being smrt enough to give up and go back when the snow got to be over a foot deep (in August!)

Slovenia – getting lost while hiking to Bobotov Kuk and as a result having a much longer and much more rewarding hike with even better views…and still ending up at the top of Bobotov Kuk

Croatia – the guy walking the city walls who had an Adele song as his ringtone on the loudest setting ever…and also had zero fucks to give about it

Bosnia-Hercegovina – everyone in the stores was buying cigarettes. Everyone. Didn't see a single person ever NOT buy cigarettes

Montenegro –  in the Prokletije mountains, one of the most remote mountain ranges in Europe…on the last day of my trip I run into a person with an Amgen backpack

Argentina – on a trip where I'd be spending 1/3 of the trip in my tent, and on the first day of summer in Patagonia, my first night in the tent…there's a blizzard

Chile – returning from a brutal hike over slippery rocks in the pouring rain to find that a fox had ripped into all of our tents

(Antarctica) – penguins smell like shit

Uruguay – the sad horse that stared at the horse racing track 10 ft beyond his fence

Finland – eating sausages that were cooked in the sauna right next to a couple of naked bodies

Estonia – I ate bear. Do not eat bear.

Nepal – the best $160 I will ever spend in my life. Everest brought me to tears.

Malaysia – seeing a peacock mantis shrimp while diving in Borneo

Indonesia – nearly stepping on a spitting cobra while walking around looking at Komodo dragons

Singapore – black pepper crab

Panama – having a cop stop me on the street, point in the direction I was walking, say "no," and put me in a cab because the neighborhood was too dangerous at 10:30 AM for a white person

Costa Rica – after the horribly long day of crossing the border from Panama and getting caught in some amazing  rain…getting to town and finding out the hostel we were trying to book didn't actually exist

Luxembourg – the care that went into making sure the American memorial cemetery was the cleanest place I've ever seen

Spain…