Meridian, Idaho
Wow, did we have great barbecue the other night after Idaho's Largest Garage Sale.
It was just down the street from the fairgrounds at a place called Cutter's Grand BBQ.

We had driven by the spot a lot while we were living near the fairgrounds in Homer at the RV park. It was always busy, but we never could really tell what was going on.
There's no signage. There's no building. There's just people eating–lots of them.
It's not really a restaurant and not really a food truck. It's a combination of a food truck, a competitive barbecue trailer, and a picnic area.
Here's their story:
Cutter's Grand BBQ has been in operation since 1987, when Mike and his Dad built the barbeque grill. Initially they cooked tri-tip for special events in California. Since Mike has moved to Bosie, Idaho, in the late 1990's, he has catered special events, private parties and has had a roadside BBQ stand for the last three years.
So I guess it's called a "roadside BBQ stand".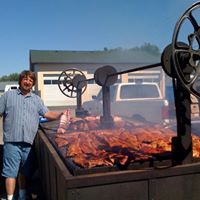 Whatever the place is called, they have some of the best BBQ and ribs I've ever had…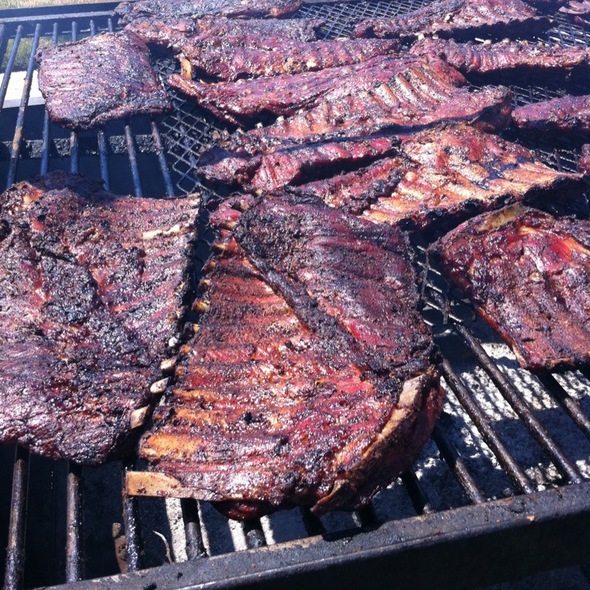 We had a pulled brisket sandwich, a pulled pork sandwich, and split a small order of ribs.

Simply amazing.
They are only open from Thursday through Saturday. Lunch begins "about 11:30 a.m." Dinner begins "about 4:30 p.m."
If stormy and/or rainy weather is predicted, it's best to call ahead because they may be closed.
I know. I know. It sounds like a bizarre place. And it is. But there's a reason why every time Rich and I drove by there, dozens of people are eating and smiling while they lick their fingers to get every last drop of house BBQ sauce and special dry rub…
So if you're ever in the area near Boise's Ada County Fairgrounds Thursday, Friday, or Saturday, give Cutter's Grand BBQ a try.
You won't be sorry you did.