Meridian, Idaho
Today's bit of Good News about Good People is about Stephen Colbert–a television host, actor, and author who hosted Comedy Central's The Colbert Report–a satirical news show from 2005 to 2014.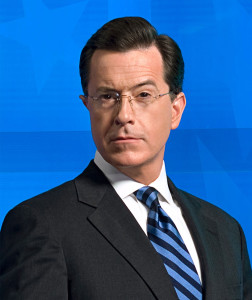 He will soon succeed David Letterman as the host of CBS's Late Show. 
Colbert, a South Carolina native, recently donated $800,000 to fund more than 800 South Carolina's teachers' requests for over 1,000 special projects.
Now that's what is called Good Work!
PS: Happy Birthday to Stephen Colbert today!
From the Washington Post
For nearly a decade, Stephen Colbert sat at a desk to dish out his own brand of "truthiness." Now, he's using the money raised from auctioning that desk to help fulfill every grant request made by South Carolina public school teachers on the crowd-funding site DonorsChoose.org.

The donation of $800,000 will fund nearly 1,000 projects in more than 375 schools. More than 800 teachers from the state have projects on the site.

"Enjoy the learnin', South Carolina!" Colbert said Thursday to teachers and students assembled at Alexander Elementary School in Greenville, S.C. His remarks — made from New York via a live video feed — were captured by the Greenville News.

The contribution includes the proceeds from "The Colbert Report" set's auction and matching funds from Share Fair Nation and ScanSource, according to a news release.

Colbert noted that he was a product of South Carolina public schools. "I'm sure there's a monument," he joked.

Maybe not, but state schools superintendent Molly Spearman said Thursday: "We are so proud that you're from South Carolina. That's something we're trying to teach all our students: to always remember where you come from and to always give back to your community."

Among the schools that will be helped by the donation is Alexander Elementary, a Title I school where the entire student body qualifies for free or reduced lunches. Funding requests for that school include $545 for basic school supplies and $504 for a trampoline and treadmill that the school's special education teacher will use for sensory therapy.