St. George, Utah 
We have passed through hundreds of cities on our journey, and I love to look at the different ways cities and towns decorate with signage.
Last week I saw a series of banners in Bullhead City, Arizona, that brought me to proud and beautiful tears.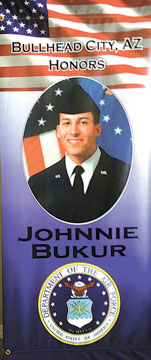 The program to spotlight active military members was initiated by a group of mothers who have children in the military.
Tri-State Military Moms
Shortly after 9/11 the Tri-State Military Moms was founded by a small group of local moms from Needles, CA, Bullhead City, AZ, and Laughlin, NV, to help support our troops!!!

The Bullhead City Area Military Recognition Program was created through a partnership with the Tri-State Military Moms, Inc., the city of Bullhead City, and the Arizona Department of Transportation, to honor and recognize active duty military members of our community. Banners will display the official military photo of the service member, name and branch of the United States Armed Forces.
Isn't that the most wonderful idea for street banners?
How great would it be if every city in America did that?