Gold Canyon, Arizona
We are back in Internet land, and while I love the Internet there are some ways that Internet accessibility and use are a pain.
Like most people, I use Google to find things. It's fast, it's easy, and it's effective.

Google's great!
However, I think Google has changed my expectations for the way I retrieve and process information. And many of those changes aren't for the better.
I expect answers immediately and get frustrated when I can't find information in a nanosecond.
I purposely don't remember some things because I can readily look them up in the cloud.
And, most importantly, I sometimes expect others to be Google-ized and able to provide information on demand.
I realized this big time when Rich and I moved back into unlimited Internet connectivity.
Google's not the problem. I am.
While I will continue to use and love Google, I'm now on a personal mission to use Google more discriminately and effectively.
*'*'*'*'*
Explanation of "Gucking Foogle":
I went to Reno High School and our mascot was a husky. A friend of my sister's also went to RHS and told a story of when she was a cheerleader.  The basketball team was to play crosstown rivals who made a huge sign encouragng the team to "Huck the Fuskies!"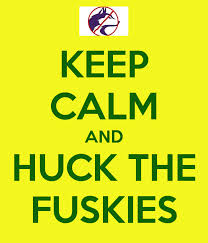 (Switch the first two letters… 🙂 )