Gold Canyon, Arizona
We went to the Mesa Market yesterday. It is an amazing place.

"There is more to see here than anyone can see in one day! A single breezeway covers a mile and a quarter of shopping lanes. 900 merchants stock 1600 shops. The place is enormous. The pace is relaxed, the merchants are friendly, and there are lots of places to sit and people-watch, too." (mesamarket.com)
While we were there, we ran into Fred and Hope. Fred's a pickleball buddy from Boise, and they just bought a park model at our resort. They were looking for yard art for their new place. They won't be disappointed by the choices available at the market.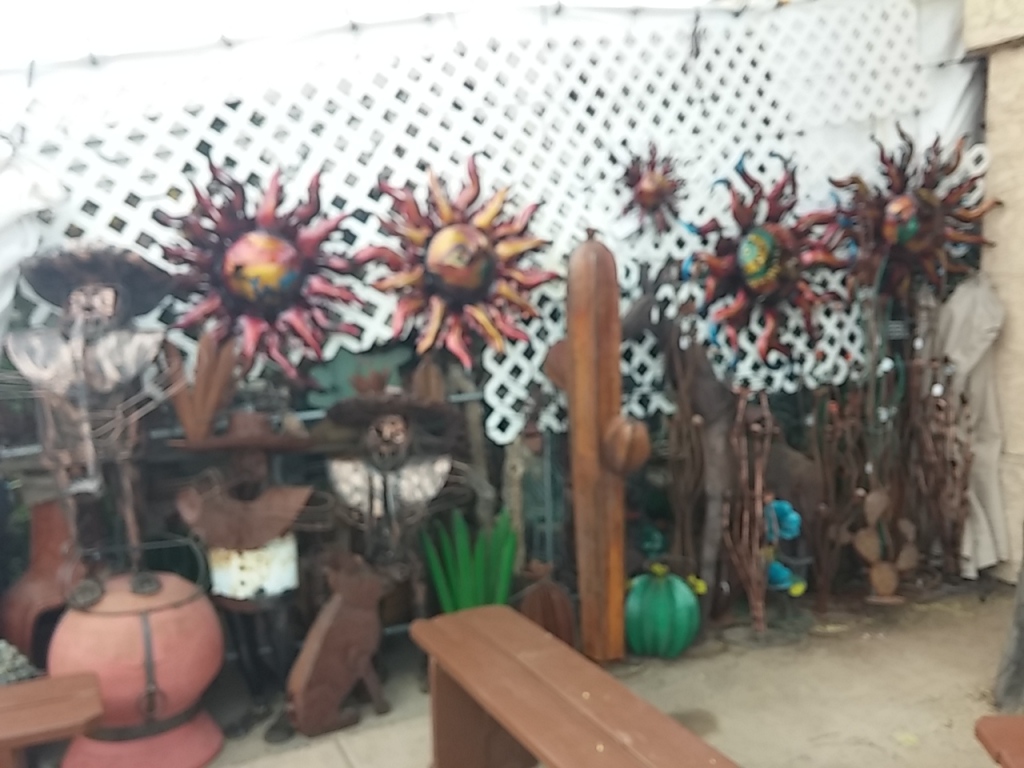 We passed by one man trying to convince his wife to buy this metal burro.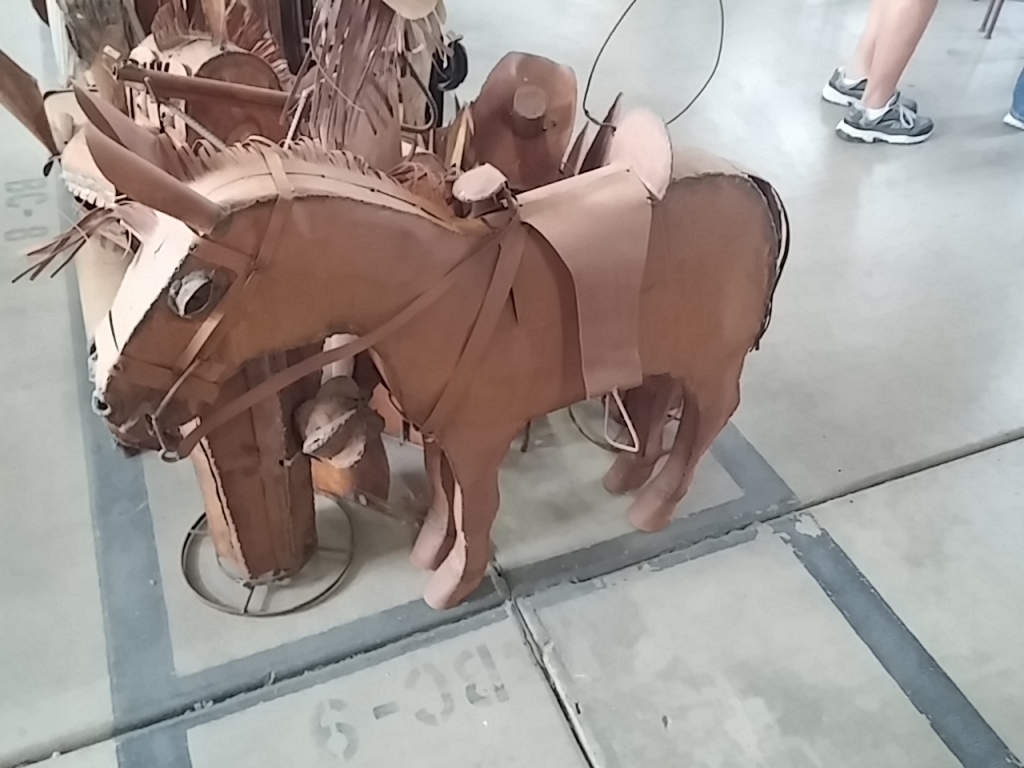 He wanted to place it with its head towards their house and find a sign to place near the back end of the burro that said, "KISS MY…" 🙂
It's always amazing what special deals are available at a market. These bras were a steal at 6 for $25. But you just gotta wonder how comfortable they were.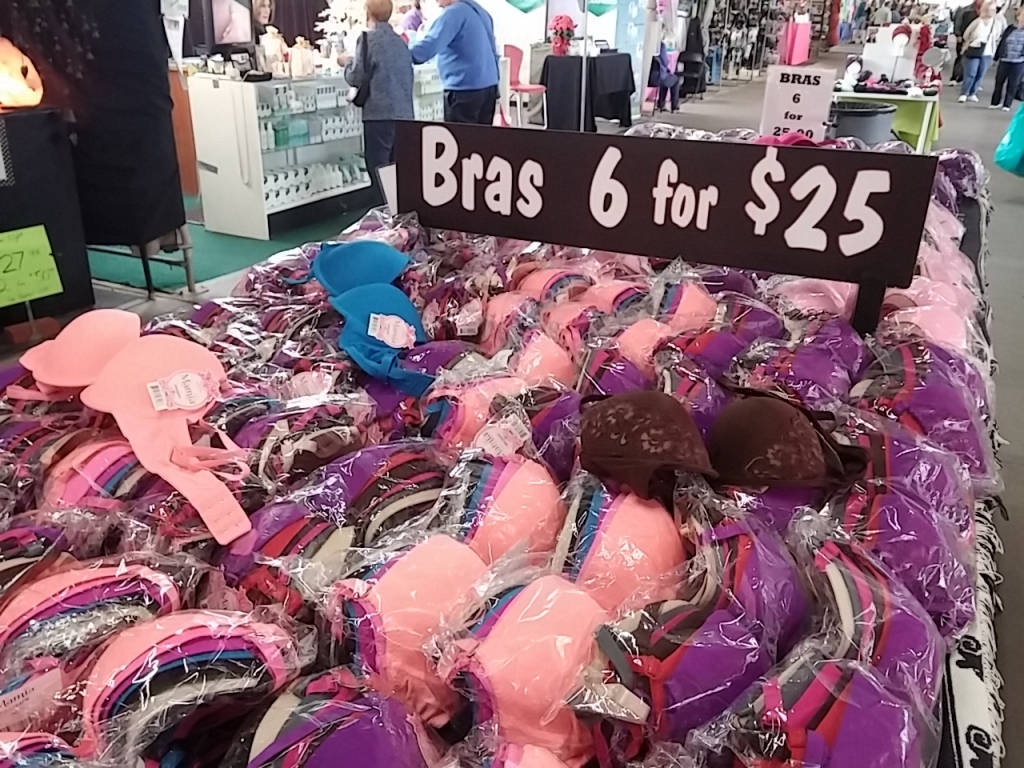 There are so many items available: everything from apple parers to hot tubs to zebras made from metal.
And if you get too tired, you can always rent a scooter to get around.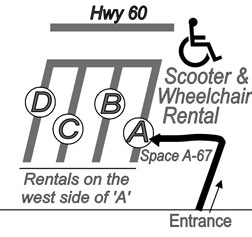 We found our favorite garlic rub (in the 80% less salt version). We first found it at the Garlic Festival about 20 years ago in Gilroy, California. If you love garlic, you'll love Garli Garni. Yummy!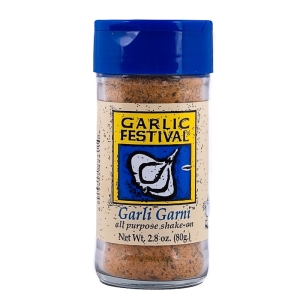 I also bought a HipKlip to carry my cell phone. (They are available in many different sizes and styles online at hipklips.com.)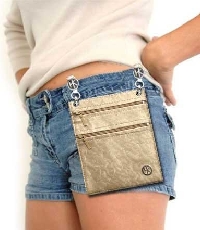 Ooh, and last time there I found these vegetable keepers made by Hutzler. I already had the onion keeper, so I bought the green pepper keeper. They are fabulous and available at amazon; check out the entire Hutzler food storage line at Hutzler.com.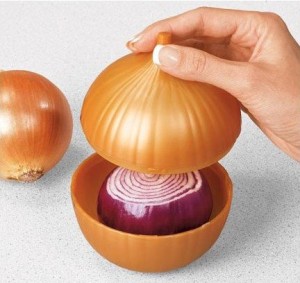 Can't wait to go shopping again to see what other amazing things I can purchase and somehow stuff into Homer's already bulging cabinets.