Cortez, Colorado
A few days ago we drove to and through The Needles portion of Canyonlands with a few side trips…
First stop on the way was at Newspaper Rock. There are hundreds of petroglyphs in a small confined area. They are amazing!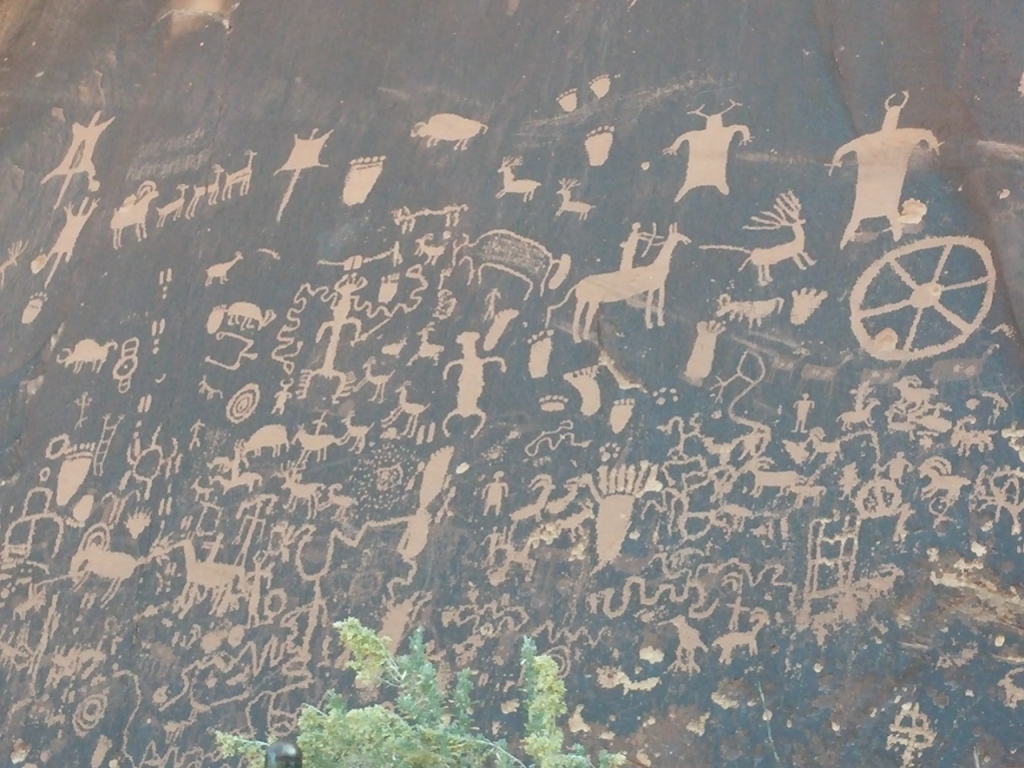 From Wikipedia:
The petroglyphs were carved by Native Americans during both the prehistoric and historic periods. There are over 650 rock art designs. The drawings on the rock are of different animals, human figures, and symbols. These carvings include pictures of deer, buffalo, and pronghorn antelope. Some glyphs depict riders on horses, while other images depict past events like in a newspaper. While precisely dating the rock carvings has been difficult, repatination of surface minerals reveals their relative ages. The reason for the large concentration of the petroglyphs is unclear. The pictures at Newspaper Rock were inscribed into the dark coating on the rock called desert varnish.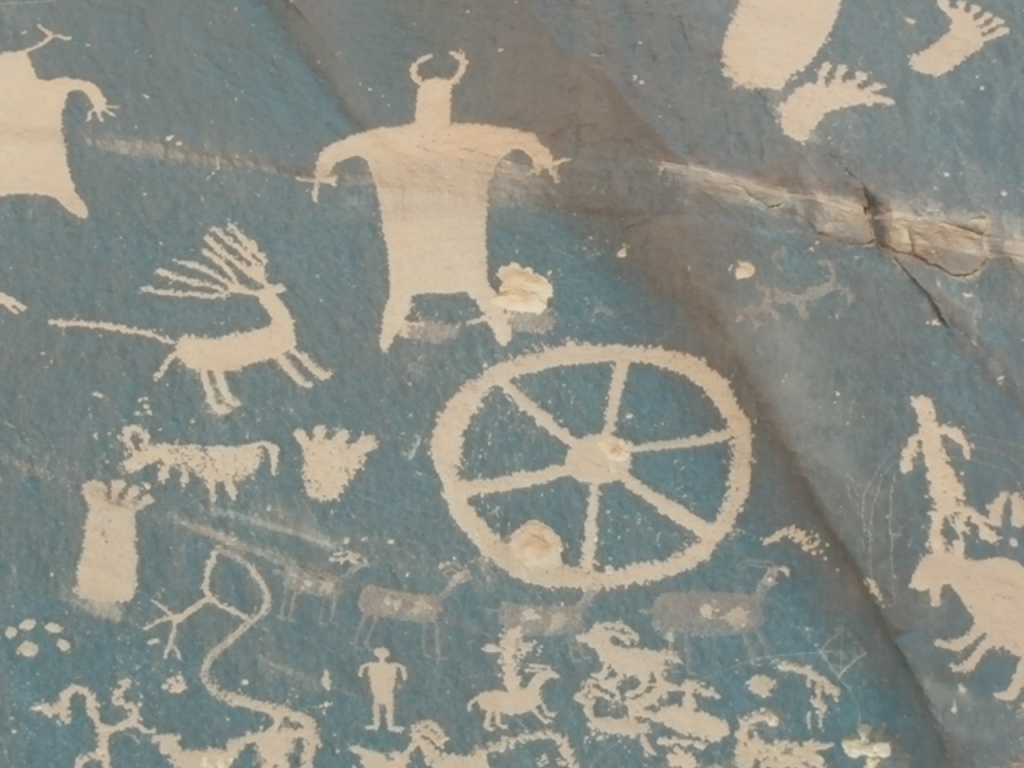 We then drove into The Needles area of the park. The Needles are named for the colorful spires that dominate the area.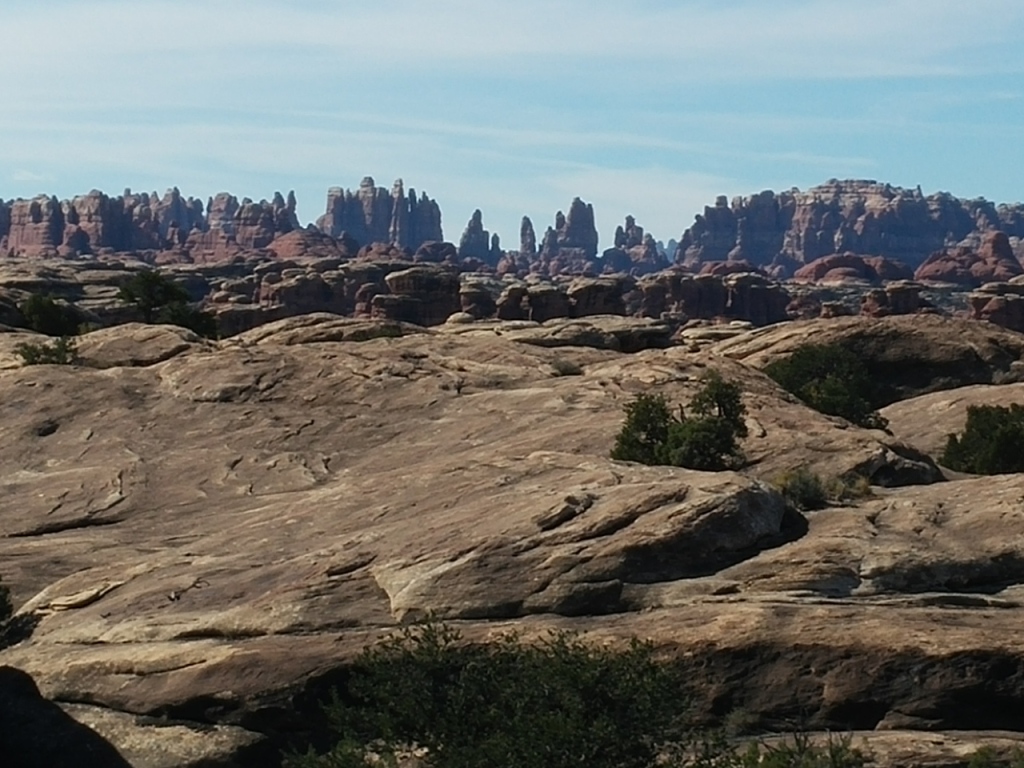 There are lots and lots of hiking and biking trails throughout Arches and Canyonlands National Parks. What was interesting to us was the age groups that dominate each park:
In Arches there are lots of senior citizens, and a lot of them are bicycling through the park.
In the Island in the Sky area of Canyonland, there are senior citizens as well, but the ones riding their bikes are older by about 10-15 years than those in Arches.
In The Needles portion of Canyonland, there are many more young 20 and 30-somethings. Most are hiking and/or riding bicycles with fat tires to the next trailhead.
Highlights from our tour through The Needles:
Odd rock formations that look like upside down elephant legs.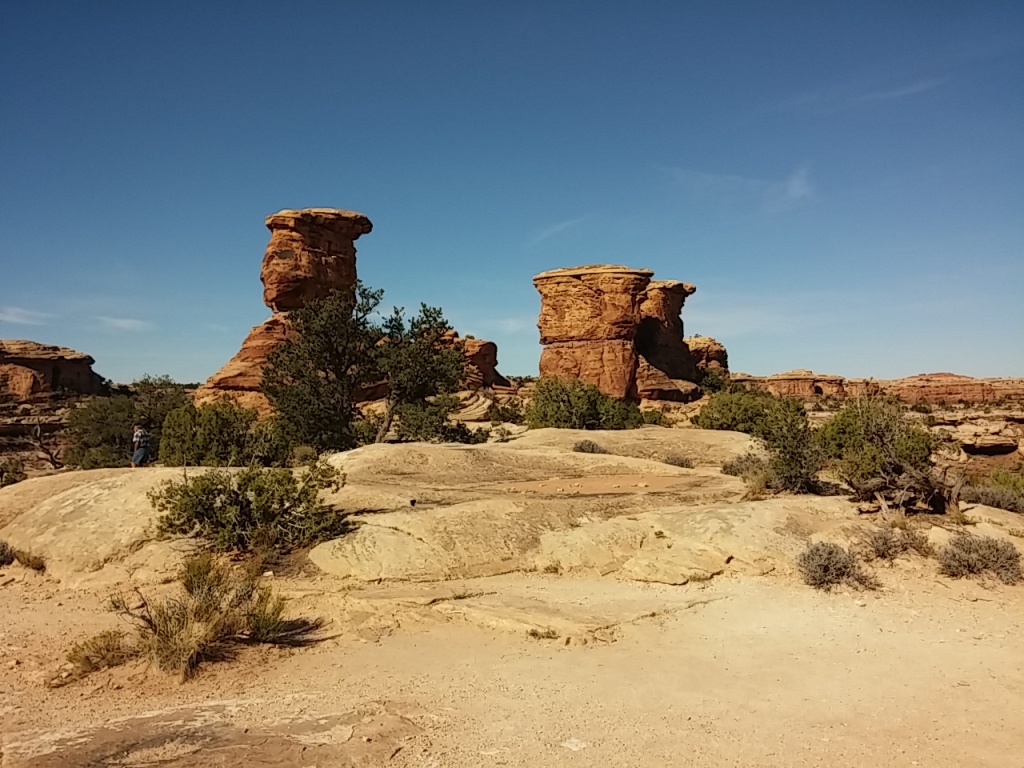 An arch that is shaped like and called The Wooden Shoe.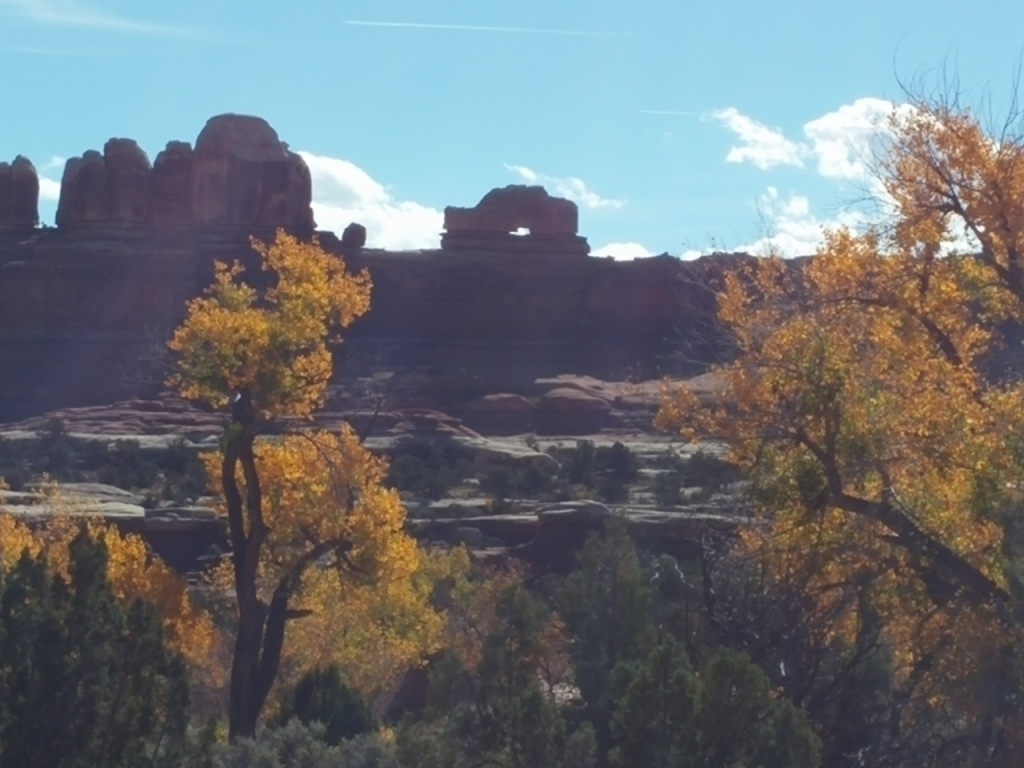 These are called The Potholes. They look like they are boiling and have white tops like they are foaming.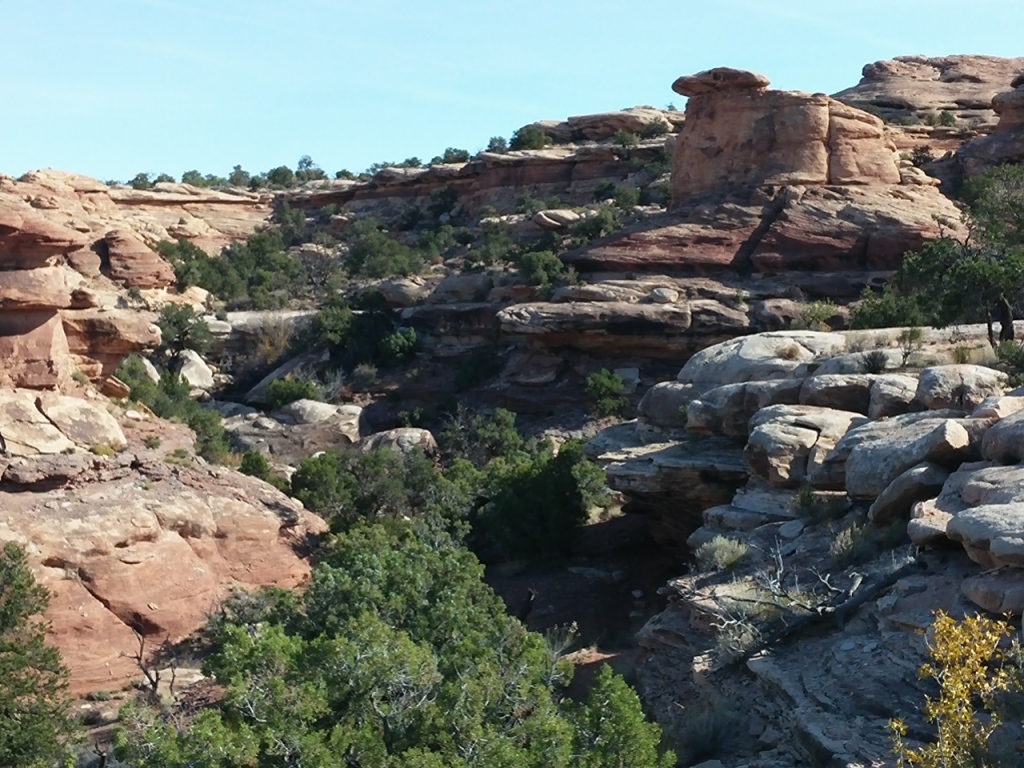 The colors and shapes variations are endless.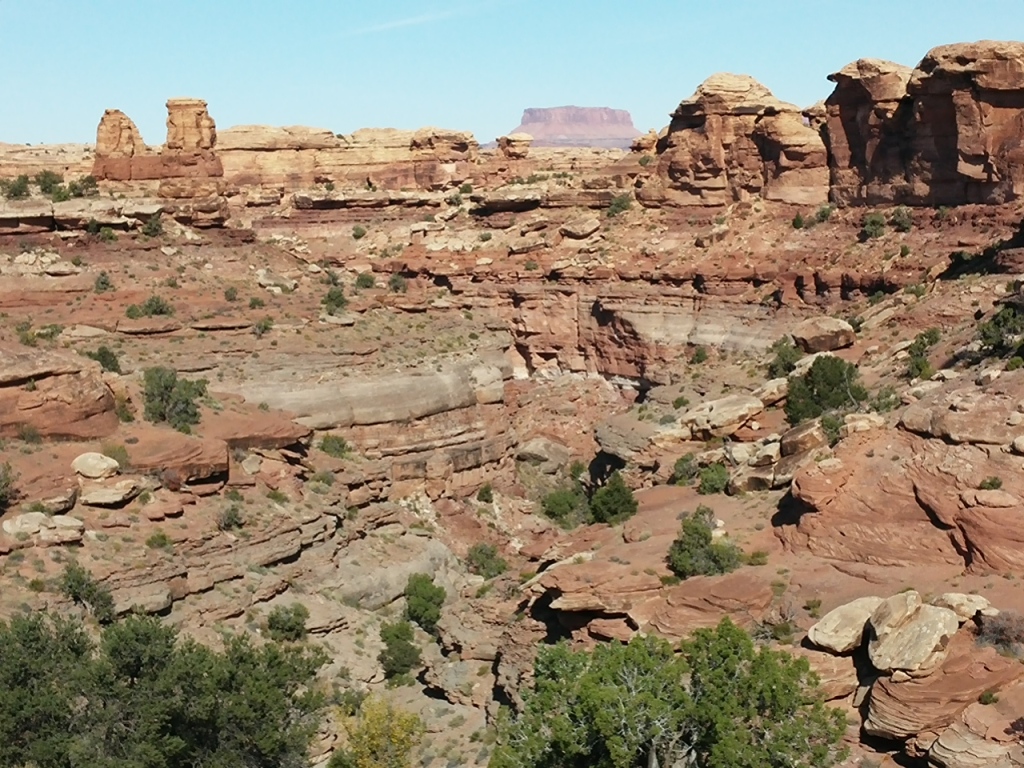 We also drove to The Needles Lookout area . It's a long ways off of the highway, but the nearly 360 degree view is simply jaw dropping even though it was a bit hazy…
The lookout are was beautiful on its own. We walked right up to the rock's edge to look at the views (safely held back by a secure fence.)
Here is looking north towards the Island in the Sky area with the Green and Colorado Rivers.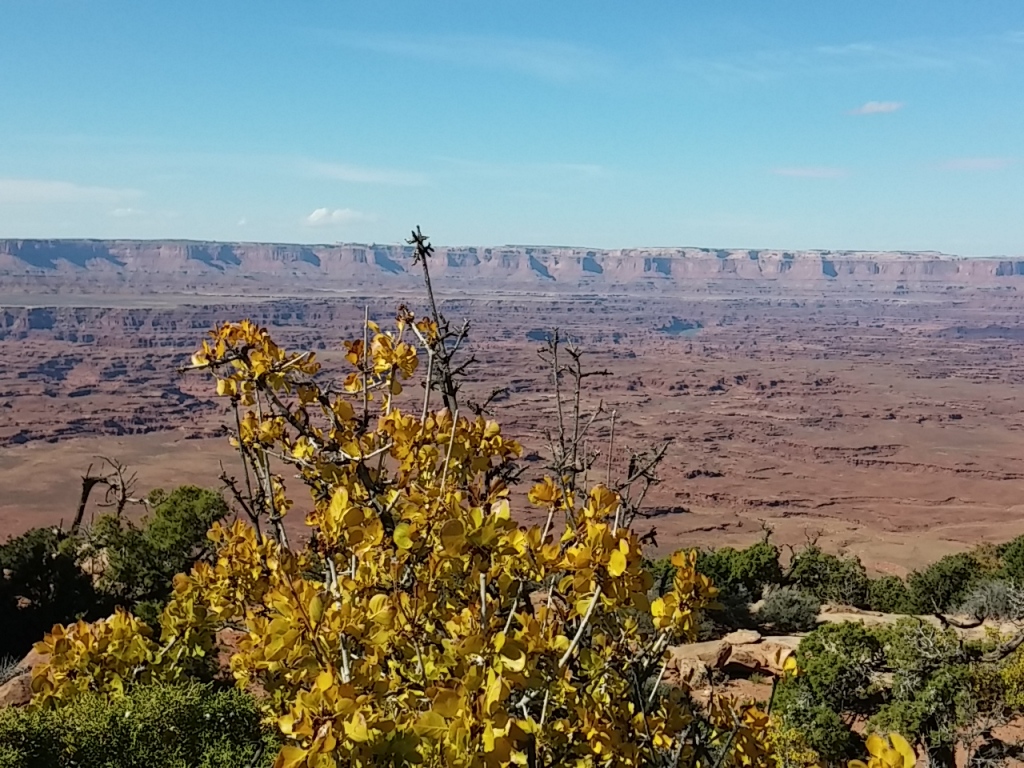 And this is looking towards The Needles.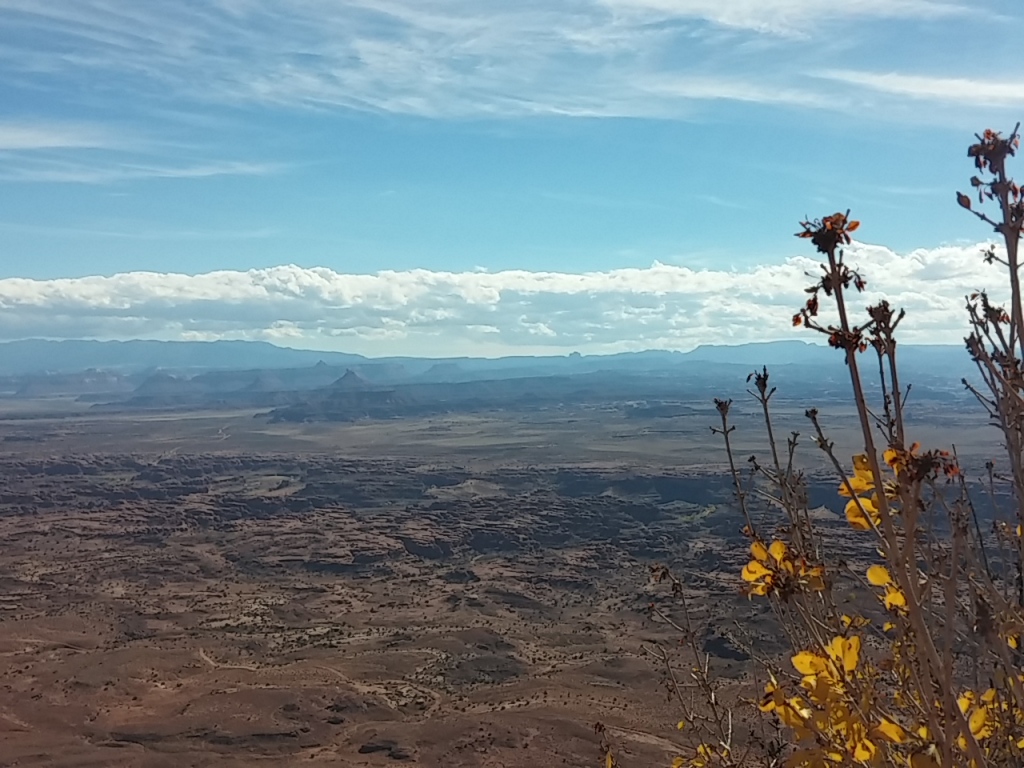 During the entire drive I was thrilled to see so many golden Cottonwood trees on our drive. Haven't seen that many in one area since we left Fallon.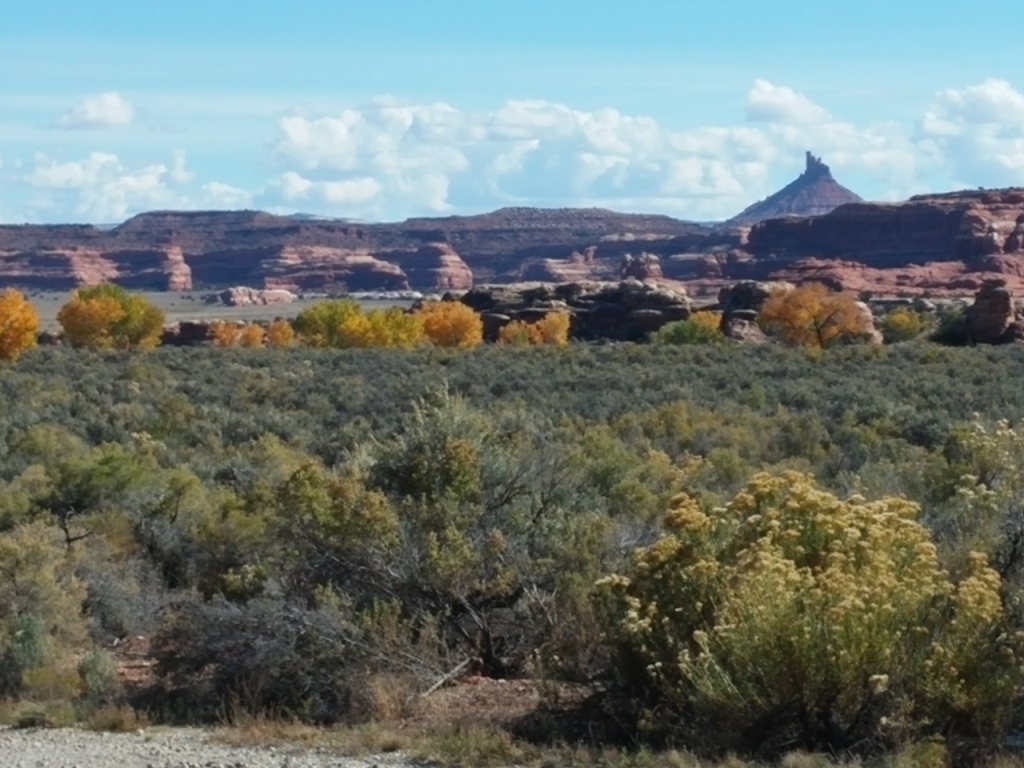 A few random photos from the day just because I think they are  cool looking. 🙂