Las Vegas, Nevada
Carol and I are in Las Vegas to visit and play some pickleball.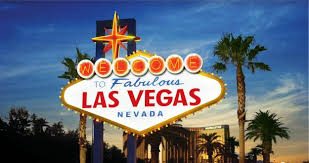 Yesterday we played in Women's Singles. The majority of pickleball players don't play in singles and just compete in doubles, but Carol and I like singles because it's a good way to get a lot of exercise and sweat a ton in a short period of time.
There were only four women in our age bracket, so we played each other two times for a total of six games.
M.J. is from Chicago and a former killer tennis player. She's incredibly good. Jan lives in southern California in the winter and trains with some amazing players. Even though she's only been playing a little while, she's also very, very good.
These games are arranged by age bracket, not by skill level. I prefer skill level because I am not that good. While I'm fine with losing, it can get rather disheartening to continually get whooped… 🙂
M.J. lost to Jan once, and she beat her once by a one point margin. They both beat Carol and me. And Carol beat me twice.
While pickleball is incredibly fun, scoring is weird so I won't go into the mechanics of it all here… And you're welcome. 🙂
The day ended with M.J. first overall, Jan second, Carol third, and me fourth.
But it turned out that M.J. was younger than the rest of us, so she won the gold medal in her own 50-54 age group. Jan won the gold, Carol the silver, and I got bronze in our 55-59 age group. Oh, and because Carol was the only one from Nevada, she won a gold for Nevada.
I told you pickleball scoring was weird. Ha ha…