West Yellowstone, Montana
So far we've stayed in Homer in seven states: Idaho, Oregon, Washington, Montana, North Dakota, South Dakota, and Wyoming. By the end of the year, we plan to add two more: Utah and Arizona.
It has been interesting to see how different each of the states are in how and what they communicate.
What is our state about?
Each state has their own motto, nickname, and seal:
Arizona: Ditat deus (God enriches-Latin) * The Grand Canyon State
Idaho: Esto perpetual (Let it be perpetual perpetual-Latin) * The Gem State

Montana: Oro y plata (Gold and silver-Latin) * The Treasure State

North Dakota: Liberty and union, now and forever, one and inseparable / Strength from the soil * The Peace Garden  State

Oregon: The Union and Alis volat propriis (She flies with her own wings-Latin) * The Beaver State

South Dakota: Under God the people rule * Mount Rushmore State

Utah: Industry * The Beehive State

Washington: Al-ki (By and by-Chinook) * The Evergreen State

Wyoming: Equal rights * The Equality or Cowboy State

My personal favorites?
Motto: Oregon — She flies with her own wings.
Nickname: Montana — The Treasure State
Seal: Montana 

How Can We Make Drivers Pay Attention?
Some states indicate automobile fatalities with a special sign. Here are Montana, South Dakota, and Wyoming signs: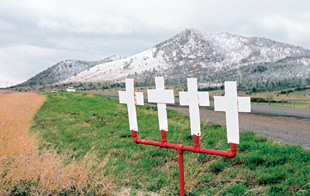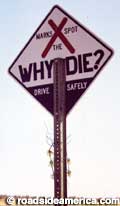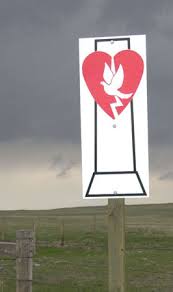 I'm curious to know if the markers help. For me, I was shocked how many there were at first. Then I became more and more curious about how the accident happened. But maybe that's just me…