Cody, Wyoming
We drove into Yellowstone yesterday and went through the east entrance to the park. We'd never been on that side of the park or on the road leading into it.
First we came across The Smith Mansion. (Not my photo.) The mansion is an unfinished house that a local engineer was in the process of building on his own for over a dozen years. Tragically, he fell to his death from one of the balconies. (Read more.)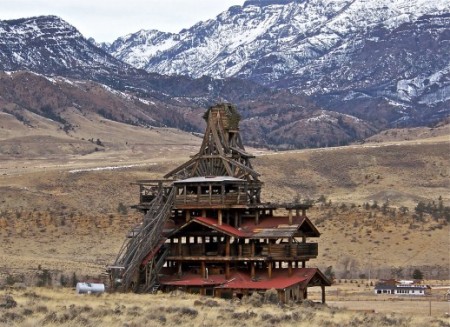 The rocks in and around the Wapiti area are stunning in size, color, and design. Lots of towers, strategically balanced rocks, and cliffs.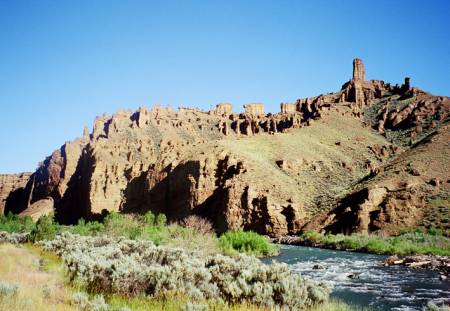 Interestingly, we saw two lone bison bulls. One was about 20 miles from the park boundary, and the other was just inside the boundary but at least 20 miles from the other in park bison.
We went to a butte lookout to take a gander at Yellowstone Lake. It's over 30 miles wide! And at nearly 7800′, it's only unfrozen for five months out of the year.
At the Fishing Bridge visitor center, we saw a unique light fixture that both Rich and I liked. (That's not the amazing part… 🙂 ) It was made with different types of sheds and skulls that were attached to a large metal hoop.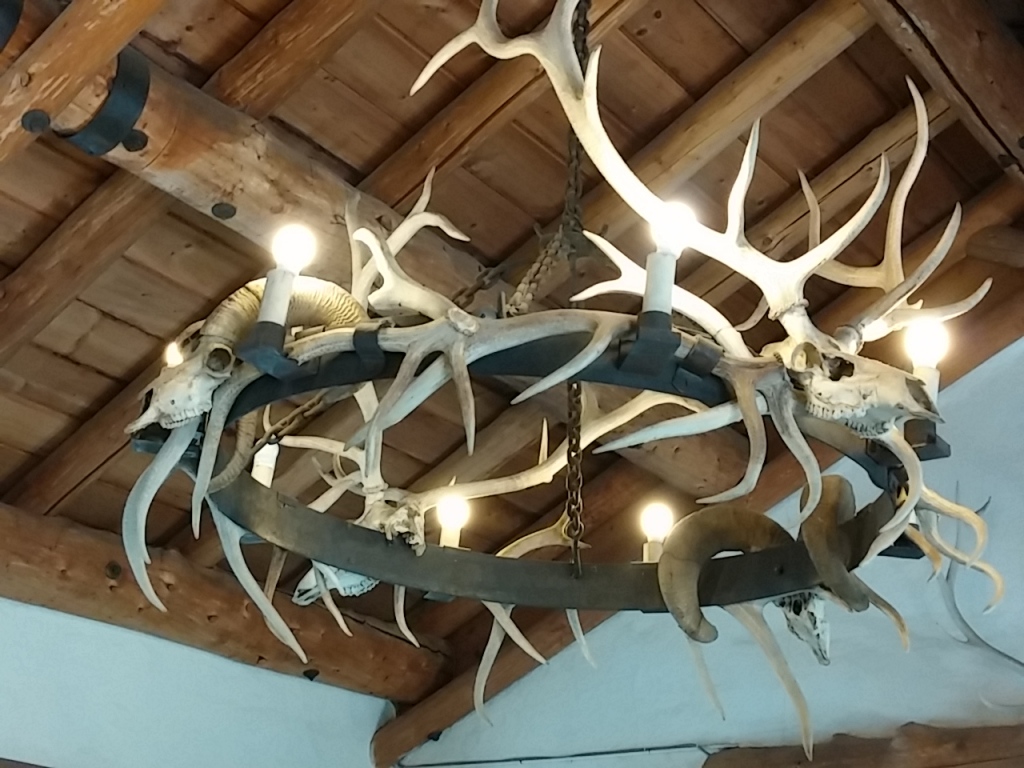 Our tour took us through the Grand Canyon of the Yellowstone. With two large waterfalls and miles of stunning scenery, it's my favorite non-wildlife area in the park.
Although this picture looks fake, it's not. That's how the image came through on my phone's camera.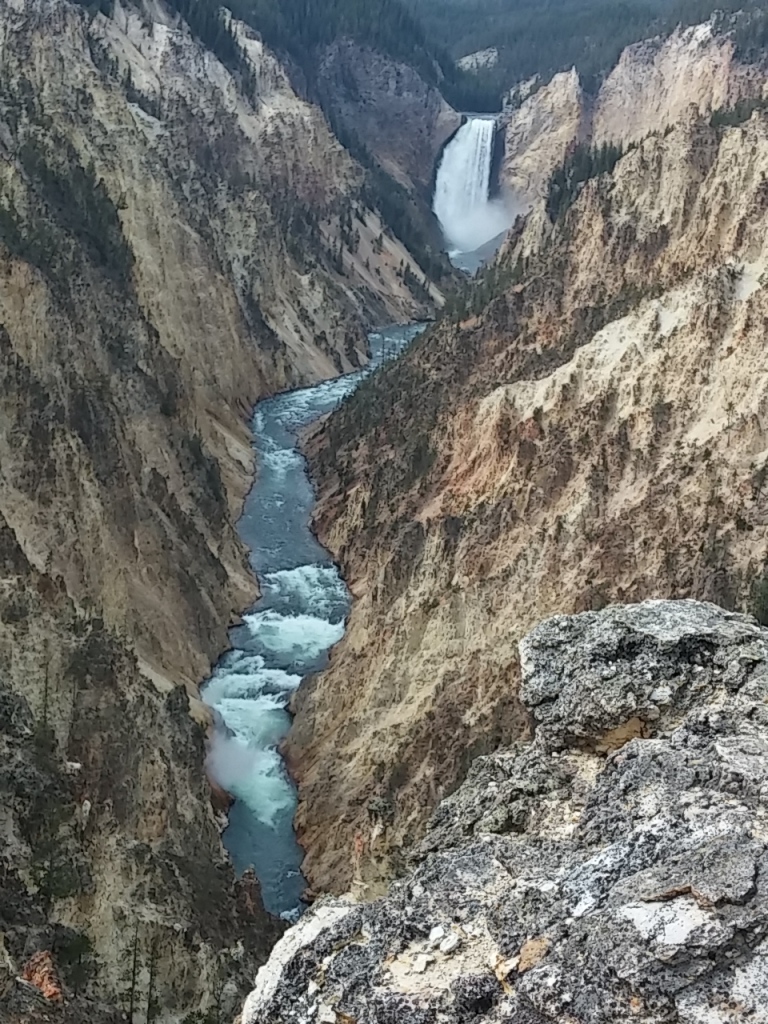 This picture looks like it's sideways, but it's actually showing the brink of the waterfall. We hiked 3/8 of a mile up and down 600′ to get to the brink. Well worth it…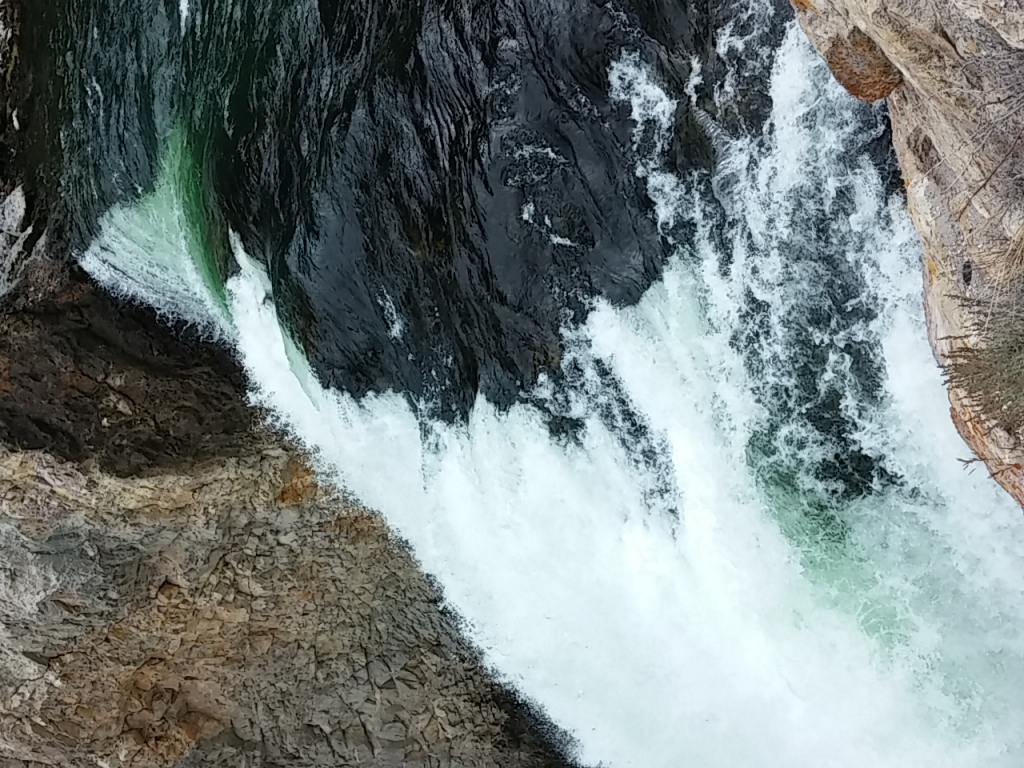 And for those of us who love fall, a smattering of yellow fall foliage with the Yellowstone River in the background.