Wall, South Dakota
Surprise! It's supposed to snow in the area for the next few days, so we've taken a bit of a detour. That's a big benefit of having a home on wheels and traveling when reservations are not necessary.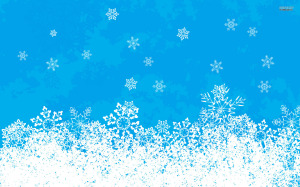 Several people we've talked with have mentioned that they were going to stop at Wall Drugs.
We had no idea what they were talking about until we finally Googled it after hearing out so often.
Wall Drug Store, commonly called Wall Drug, initially opened in 1931. Ted Hustead was a pharmacist who was looking for a small town with a Catholic Church in which to establish his business. Wall's population at the time was 231.
"Business was very slow until his wife, Dorothy, got the idea to advertise free ice water to parched travelers heading to the newly opened Mount Rushmore. From that time on, business was brisk. "
Wall Drug draws over two million visitors each year and over $10 million in sales.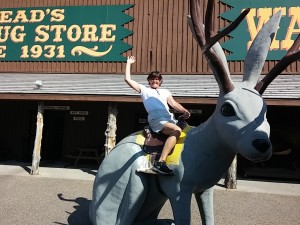 How'd it get the word out? Billboards, lots of them.
Initially the billboards focused on the fee ice water.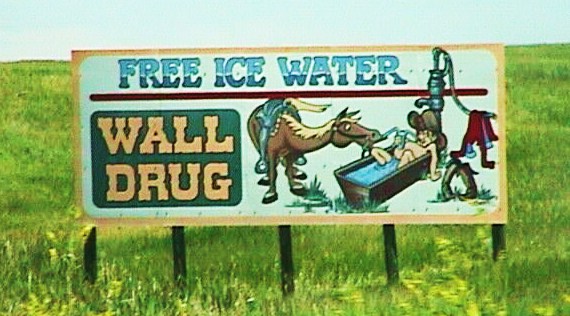 Over 650 miles of interstate house thousands of billboards that cost Wall Drugs $400,000 each year. Not only are the billboards in South Dakota, they are scattered across the USA and the world! Here is one in Amsterdam.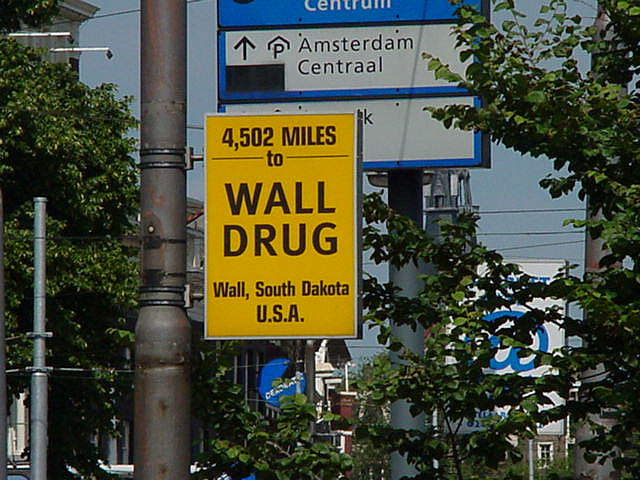 Wall Drugs is now a shopping mall that consists of a drug store, gift shop, restaurants, and other stores. All entities are under the Wall business domain.
They still offer free ice water to all who visit.
They also offer a free coffee and a donut to honeymooners, priests, hunters, truck drivers, and service men and women.
*Information and quotes taken from Wikipedia.
PS I now know how they made so much money… Made in China and overpriced. 🙂