Columbia Falls, MT
who you will meet.
Live music enticed us across the highway here in Columbia Falls, Montana.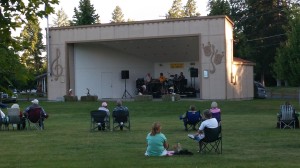 There was a small crowd of less than 100 there to listen to the band play old time favorites from Gene Autry to Happy Days.
A small group of women, aged 25 to 45, dropped by. They were dressed in sundresses and looked like they just came from a Whole Foods store: healthy, happy, and wholesome. One of them came over to pet Sophie, and we started talking with two of them.
Turns out they had just finished a build for Habitat for Humanity. One was from Cape Cod; the other from Phoenix.

The gal from Cape Cod plans to go on a build in all 50 states. She's about half way to her goal. The one from Phoenix was supposed to go on a build in Amman, Jordan. But due to the political tensions, she opted to stay in the states. She uses her vacation every year to go on a build.
They came to the concert because it was advertised as a Barn Dance.
I think they were mighty disappointed not to meet some Montana cowboys…