Coulee City, WA
We stayed at a very busy campground outside of teeny tiny Coulee City in Washington.
The area is called Sun Lakes, and I think it attracts sun seekers from throughout the northwest. From young families to retirees, sun worshipers were all smiles with the sunshine and warm temperatures.
Dads play golf on the nine hole course, kids play in the water (and each one must have their own personal flotation device that is at least five feet square), and moms work their butts off around camp. 🙂
The geology of the area is amazing. We saw everything from Dry Falls to Grand Coulee Dam.
Dry Falls
Dry Falls is exactly that… A place where there used to be falls but the water is gone.
Dry Falls is 'an artifact of the ice-age floods of some 15,000 years ago, when mammoth ice dams in Montana broke and the waters of a giant lake — with 500 cubic miles of water — swept across Northern Idaho and Eastern Washington and scoured out the dramatic coulees we see today. The raging flood waters were hundreds of feet deep. During those floods, raging waters dropped more than 400 feet over cliffs 3.5 miles wide — more than twice as high and three times as wide as Niagara Falls.' (Seattle Times)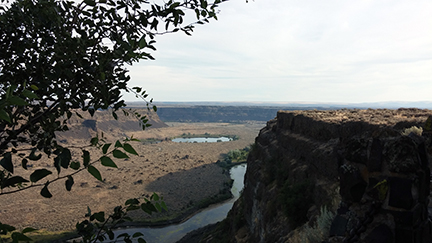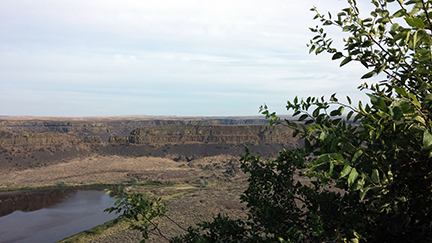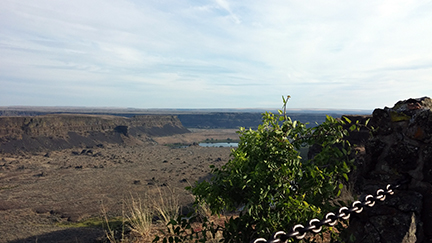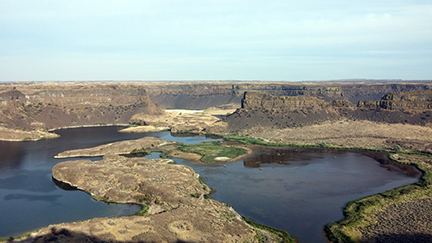 It's an amazing sight to see… I would love to see it from the air!
Grand Coulee Dam
Next we drove to view the Grand Coulee Dam. 
It's an amazing engineering marvel. Hard to believe what was accomplished in the 1930-1950's to build the dam. A third dam was added in the 1970's and while it is significantly smaller than the rest of the dam, it generates 60% of the power the dams provide.
I was fascinated to read that the feds paid Woody Guthrie $366 to write songs about the benefits of generating power in the Pacific Northwest.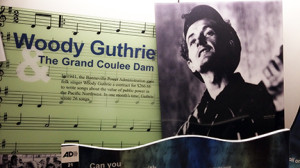 And while Rich oohed and aahed at the dam, I, of course, was marveling at the quilt made by one of the locals who had retired as an engineer. Her quilt has won many awards.