Coulee City, WA
Just before we found out about the fire that prevented us from crossing the northern cascades, I got really organized and made reservations for the next two weeks. (I won't be doing that again.)

In order to make those reserved stays and not lose any more of our deposits, our detour took us on the interstate.
After a harrowing drive on extremely windy roads, we ended up in Moses Lake, Washington.
I'm sure lots of people really love Moses Lake, but I'm not one of them…
Moses Lake is actually the name of the town and the lake that's in the middle of the town. The lake has hundreds of lake front homes along its 120 miles of shoreline.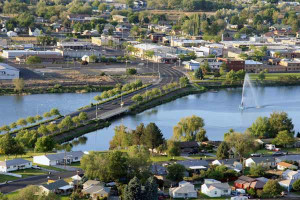 I went for a jog near parts of the lake and some surrounding subdivisions.
I felt like I was being watched. I passed dozens of Neighborhood Watch signs.
I kept on jogging and started counting security cameras in the subdivisions. I stopped  counting at a dozen (and I didn't jog very far.)
Later I was talking with Richie and he casually mentioned that Moses Lake has a huge meth problem.
Wherever there's meth, there's crime . I guess that's why housing prices were so low.
When Rich asked me if I would live in Moses Lake, I said, "Duh!" again only this time for a different reason than I did on San Juan Island.