Oak Harbor, WA
Nike has a commercial about shade running that perfectly describes how I like most to run–somewhere there is absolutely no sunshine!
Anyone who knows me very well knows how much I abhor sunshine.
Today, I found the perfect trail to run on. It has so little sunshine that there's no need to wear sunscreen or sunglasses.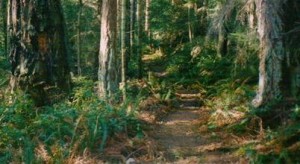 Rich and I explored Deception Pass State Park. It's on Whidbey Island and has miles of trails and great scenic views.
The trails we went on were softened with inches of pine needles and well shaded with century old pine and for trees.
Perfect!
The park has over 4000 acres and 40 miles of trails. Next time we come here we will stay in the park so I can run until my heart's content.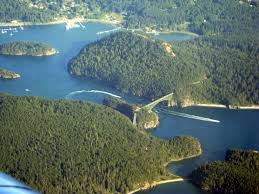 A bit of history: From 1924 to 1935, the water route from Whidbey Island to Fidalgo Island was run by Berte H. Olson (1882-1959), and her husband, O.A. Olson, who held a state highway contract. Berte Olson was the first woman to hold a ferry captain's license in Washington state. The residents of Whidbey Island wanted a bridge put in, but Berte fought it for years. She even convinced the governor to veto a unanimously passed bill to build the bridge. The fee for car and driver was 50 cents, with 10 cents additional for every extra passenger, with "extra large" cars paying 75 cents.  Berte eventually lost her fight and went out of business once the bridge was completed.