Seattle, WA
We are in Seattle visiting our son, Rich, for a few days. We used to call him Little Richie. But as you can see he's no longer little…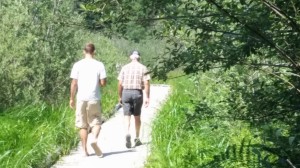 Rich took us on a drive to Mount Baker-Snoqualmie National Forest. I'm always a sucker for a drive in the mountains.
We ended up at Big Four Mountain and took a hike to the Big Four Ice Caves. According to a woman we met on the hike, the mountain is called Big Four because the snow melts in such a way each spring to expose a very large "4".
The ice caves are snow melt outlet openings at the base of permanent snowfields created by winter and spring avalanches. (Picture below was harvested from the Internet.)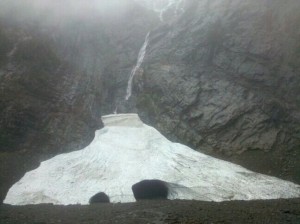 As we approached the caves, the temperature kept dropping. During today's hot temperature it felt devine!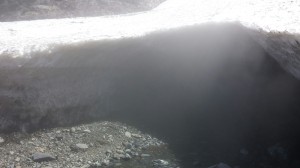 Waterfalls drop into the tops of the caves, and their water flows out the bottom in streams. These actions and the temperature changes create a chilling mist that flows out the bottom of the caves.
You can walk into the caves. They are melting, so "rain" falls from the ceiling. It is surprising how chilled we got in just a few minutes of wandering around the caves' openings.
Sophie loved walking in the chilled water too cool off because it was hot.