Mineral, WA
Took a long drive today to view Mt. St. Helen's and drive around much of Mount Rainer.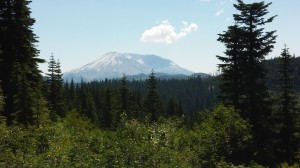 I have always wanted to see Mt. St. Helen's but never had the chance. It's stunning how much of the mountain is gone.
We took a bit of a gamble to drive up to see it. We found the right road, but there we're no mileage markers.  The signs said how many miles to everything else in the area, but they never listed how many miles to the various viewpoints.  That's the last time I forget to pack Jack–our GPS unit.
Mount Rainer is incredibly beautiful. The contrast of the glaciers and the rock make it so visually intriguing that I could just stare at it for hours.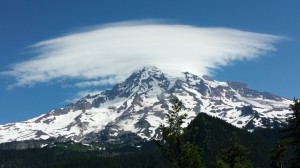 There was an interesting cloud formation on it today. I have no idea what caused the clouds to look like that. I just know it made for a great photo.
We saw 10,500 tourists in the park and one lone deer walking calmly through said tourists in the middle of one of the lodge's parking lots.
Once we left the park, we saw about a half dozen elk on the main street in Packwood.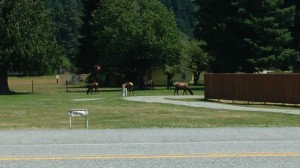 Oh, and the best part of the day for Sophie? Playing in the snow with Roscoe, a Jack Russell Terrier. 😉 They had a blast and ran so fast I couldn't get a picture of them.