Boise, ID
Slowly but surely, we are creating a home.
We've given the motor home a name. It's just too formal to keep saying 'motor home'. So we are calling our new home 'Homer'. HOME + Roaming = HOMER.
Rummaged through the storage sheds to find some stuff to make Homer feel more mine.
Found a few things that helped.
There was a picture in the bathroom when we bought the RV. The mat and frame were nice, but the picture didn't fit.
I found some unfinished quilt blocks, sewed four together, and, viola, a nice new picture.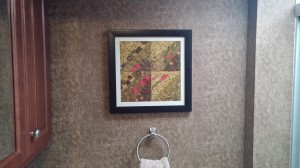 Next I took a table runner I had made and placed it across the foot of our bed. The colors and design compliment the bedspread that came with the bed.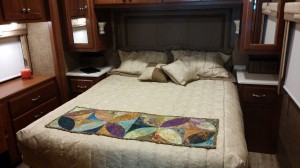 And finally I harvested a whole cloth quilt I made and used it as a cover for the couch.  That's the place Sophie and I take our afternoon siesta. And the quilt is ever so comfy.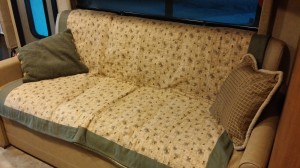 Homer's happier and so am I.