Boise, ID
The main reason we are back in Boise for a bit is to watch our daughter's dog Olive while Melissa is on a vacation with her best friend Kassi. They are going to watch some professional soccer and to visit Richie in Seattle.
Olive is a lovable, albeit slightly neurotic, Schnauzer who has yet to realize that she's a dog. She thinks she's human… And in lots of ways she's pretty gosh darned close.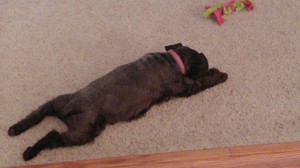 She's very sensitive to any kind of stimuli. I have seen Olive refuse to walk another step because a tiny willow leaf is stuck on her leg.
Unfortunately for Olive, fireworks are legal in Idaho. And many of Melissa's neighbors exercise their legal right to try to blow things up and cause wildfires on Independence Day.
I have never seen as much fear in an animal as Olive showed last night. Poor sweetie was terrified.
But what surprised me the most was that Olive remembered it all the next morning. She cautiously went outside this morning and looked for the residual chaff from the night before.
Sophie doesn't remember five minutes ago let alone the previous night. I told Melissa that I was surprised that Olive remembered. She said, "Olive remembers EVERYTHING!"
Olive taught me to never assume what someone (or something) will remember.
It's better to operate on the assumption that all of my words and deeds have impacts and consequences that I am responsible for.
Now if only Melissa's neighbors would realize this and clean up all the chaff in the street and Melissa's front yard left over from their revelries.
UPDATE: The neighbors cleaned up!