Boise, ID
The RV park we're in right now is 'nice', but there's lot of people going in and out all the time.
So we are locking the doors and chaining the bikes.
We only have one chain, and it's not very long. Way too short to go around the frames of the bikes and attach to the table.
Rich got creative and chained the back tire from one bike to the front tire of the other bike.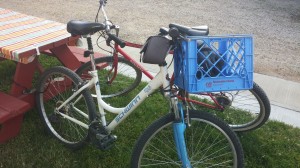 If thieves remove the tires and take the bikes with the remaining two tires, they will only get one complete bike once they combine parts.
He hopes they are smart enough to figure that out and leave our cheap battered bikes alone.