Boise, ID
I always said that if Rich and I moved into town that my wish would be to live within one-quarter mile of the Greenbelt.
The Boise River Greenbelt is a recreational and alternate transportation trail along the banks of the Boise River. It's more than 30 miles long and is a wonderful walking, biking, jogging path–most paved but some on dirt.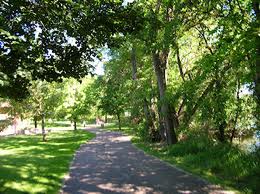 The RV park we are staying at right now is less than 50 steps to the Greenbelt.
In three days, I've already ridden my bike about 10 miles and jogged about 3. Sophie doesn't know it yet, but we're getting up early tomorrow morning and jogging five miles before it gets too hot.
I LOVE the Greenbelt.