Troutdale, Oregon
Just leaving Fort Stevens in Oregon. Just love this place!
One of the things I noticed today is how we all see whatever we are looking for… Vision is a matter of perspective.
For example, I love both flora and fauna. So I'm constantly looking for flowers, shrubs, and trees that I haven't seen before. And I'm looking for any kind of wildlife.
While here, I saw some fingerling fish jumping out of the lake. During my kayak tour, I learned that those baby fish shouldn't be there because the lake is land locked and all the fish planted there are sterile.
Later that afternoon a black tail doe wandered through our campsite and over by the restrooms. I doubt that anyone else within our area saw her because they kept on partying.
Their focus and perspective in life is different than mine. Nobody's is right or wrong… What we're looking for and at in life is different.
On our trip into town I saw a raven that had just captured a tasty snake for dinner. (Alas no picture…)
The best sighting was of these three bulls. They were about a quarter mile from the ocean.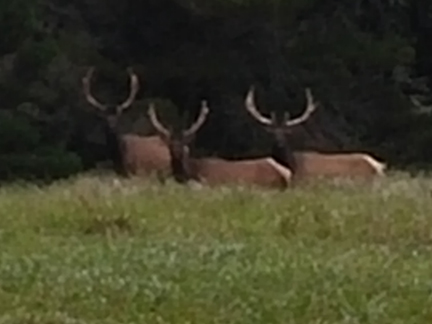 We had seen a smaller bull earlier that morning whose antlers were in the velvet. Cars passed by us by the dozens probably wondering what we were looking at while they were looking for and at different things…