Fort Stevens, Oregon
Tried something new today while camping at Fort Stevens–kayaking!
Our guides Lynn and Hugh are teachers from the Tri-Cities area in south eastern Washington. Every summer for the last ten years they have worked at various parks teaching others about nature.
They were excellent guides and made all of us feel very welcome and comfortable regardless of our skill level (or lack there of).
We saw lots of wildlife including a doe and fawn, a bald eagle, an osprey, and a heron sitting in a pine tree.
I loved it and could easily fall in love with smooth water kayaking.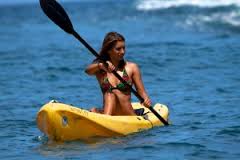 Yep, that's really me! This trip has been so good for me that I've lost 25 pounds, grown my hair out, and worked on my tan. Hee hee…